SO Festival in Skegness seeks 500 volunteers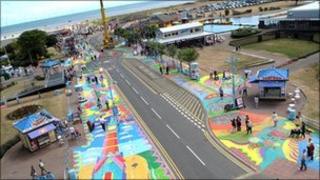 Organisers of the SO Festival in Skegness are looking for 500 volunteers to help with this year's event.
The festival, which runs from 22-24 July, is a cultural event including arts, dance, street theatre, music and comedy.
Organisers of the festival have launched the search to coincide with the 500-day countdown to the 2012 Olympics as it is part of the Cultural Olympiad.
They said people who get involved with the SO Festival will get to "experience an exciting range of duties".
Semantha Neal, business manager for health, arts and events at East Lindsey District Council, said: "The SO Festival is about bringing unique, exciting and different cultural activities to the coast.
"There are all sorts of things volunteers can do. Dance, costume-making, everything from the creative side through to helping people find where they need to be and providing visitor information.
"The Olympics is such a huge opportunity, particularly the Cultural Olympiad. It isn't just the sport, it's dance, it's play, it's all sorts of different opportunities."