Lincolnshire royal wedding party numbers 'shameful'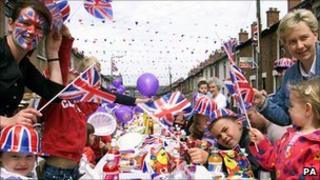 Officials in Lincolnshire say they have had 16 street party applications to celebrate the royal wedding.
On 29 July 1981, when Prince Charles and Diana married, there were more than 120 street parties in the county.
It has been suggested the fact Prince William and Kate Middleton's wedding is earlier in the year could be the reason for the lower number of planned events.
Street party organiser Joanne Lowe said the number of applications for the 29 April wedding was "a bit shameful".
Ms Lowe, who is planning a party on Harrington Avenue in Lincoln, said: "I suppose when our parents and grandparents were our age there was more of a community. People did get together more.
"Now everyone's just too busy working. They haven't got time to meet people.
"They just come home, want to be left alone and just chill."
Chris Gittins, director of the Street Parties organisation which promotes such celebrations, said: "It's very difficult to plan for a street party in the winter when it's cold."