Lincolnshire fire team to join Japan rescue effort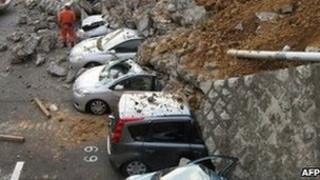 A team from Lincolnshire Fire and Rescue is preparing to fly to Japan to help with the rescue effort following a 8.9-magnitude earthquake and tsunami.
Seven staff from Lincolnshire will be among about 70 people from the UK which will travel to Japan, a fire service spokesman said.
Response manager Neil Fritzsche said the team was expected to fly out from Manchester Airport.
Search and rescue teams from 45 countries are said to be ready to help.
The first to arrive in Japan will be from the US, Australia, New Zealand and South Korea, the UN said.
"It is a pretty daunting prospect - to go out there and see what assistance we can give to the people of Japan - but whatever we face, we will deal with and hopefully provide some help," Mr Fritzsche said.
"Everybody knows what they are doing as far as search and rescue is concerned, but as for specific roles in Japan, we will wait until we join up with the UN command structure to find out what our tasks will be," he said.
The 8.9-magnitude earthquake triggered a 10-metre tsunami wreaking destruction and claiming many lives.
The charity Shelterbox - which assembles boxes containing tents, bedding and other essentials - has sent two officials to Japan to assess the need for its help.