Cash concern as Lincolnshire beet crop is turned away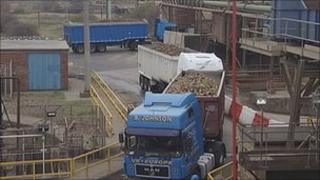 Sugar beet farmers in Lincolnshire may quit after some crops were rejected by buyers, it has been claimed.
British Sugar, which runs a processing factory at Newark, has turned away tonnes of beet affected by frost.
Following talks, the National Farmers' Union (NFU) said farmers felt they were taking too much of a risk in growing a crop which made them little money.
British Sugar said it had tried to take affected produce but an exceptional winter had done too much damage.
The firm's plant at Newark usually processes more than a million tonnes a year, worth about £34m.
Growers said a combination of snow, frosts and then a thaw had lead to the problem. They feared up to £12m worth of the harvest could be lost.
Uncertain future
BBC Radio Lincolnshire's Farming Correspondent Alan Stennet explained the situation farmers have found themselves facing.
"The frost did some damage but at that point the beet was still processable - but then the weather came warm just a few weeks ago and that is when the rot really set in.
"Cost-wise, from a 14 acre field you would hope for about £10,000 of return."
Regional Director of the NFU, Richard Heslett, said a meeting between farmers and the company had been "fraught".
He added: "What it really is about is the risk that has been transferred on the grower.
"Because as British Sugar has closed more factories, the beet has had to stay in the fields longer and the risk is greater on the farmer.
"And at £26 a tonne, is it worth it? And that is the decision farmers have to take - is it worth growing sugar beet in the future?"
British Sugar said in a statement it had taken technical steps to mitigate the affects of the cold winter on crops but exceptional weather had forced it to take action.