Lincoln council considers CCTV closure plan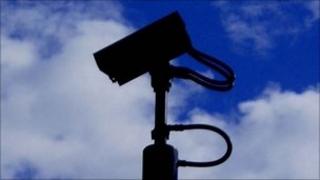 CCTV monitoring in Lincoln could cease in a bid to cut council spending.
The Conservative-led City of Lincoln Council said following the government's spending review it needs to save about £2.25m by 2013.
Axing the CCTV service, which was introduced in 1997, would save £438,000 per year, the city council said.
The team monitors 133 cameras in the city. Another council in Lincolnshire has already said it plans to switch off some of its CCTV.
North Kesteven District Council wants to switch off eight cameras in Sleaford and another four in North Hykeham.
'Serious debate'
The CCTV review will involve consultation with Lincolnshire Police, local business groups and members of the public.
Darren Grice, leader of the City of Lincoln Council, said: "This is very early days and no decisions have been made, but I want there to be a serious debate about how the CCTV service is funded.
"The level of savings we need to make means we have to take a long, hard look at many of the services we currently provide.
"We need to ask whether we can run them at less expense, with the support of others, or should we stop doing them.
"However, to achieve £2.25 million worth of savings there will inevitably be some difficult decisions to be made over the next year or so and some public facing services will be affected."
Ch Insp Mark Housley, of Lincolnshire Police, said he hoped there would still be cameras operating in the city.
"We have time to work with Lincoln City Council and other partners in the area to find a solution. We are confident we will and some form of coverage will be maintained", he said.
"These are tough times and we all have to make very difficult decisions. The way forward is for all public sector organisations in Lincolnshire to pull together, pool resources and ensure frontline services continue to be delivered.
"That is what we are doing and we will find a solution with regards to CCTV in the coming months."