Visit Lincolnshire group to call in administrators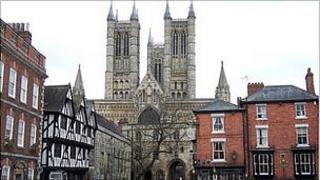 The tourism promotion group Visit Lincolnshire is calling in administrators after losing almost £650,000 in funding.
The group's directors said there was "no prospect" of getting enough money to continue operating after March.
Lincolnshire County Council and the East Midlands Development Agency are both cutting funding to the group.
Visit Lincolnshire chairman John Grubb said the move was "a huge gamble with an industry worth nearly £1bn a year".
'Out in cold'
Visit Lincolnshire said court proceedings to appoint the administrators will start in the next few days and they will arrive by the middle of February if sufficient funding is not forthcoming.
"It means, for the first time in several decades, there won't be a body promoting tourism to the county," Mr Grubb said.
County councillor Eddy Poll said: "The scale of the reductions that have to be made across the council have meant we need to work out how we continue to promote Lincolnshire successfully, retaining a co-ordinated approach, whilst giving residents the best value for money.
"With the demise of Visit Lincolnshire we are now working resolutely to fill the gap with appropriate support."
East Midlands Development Agency, which is being axed, has cut its £400,000 grant to the group while the county council has cut its £268,000 in funding.
Visit Lincolnshire's interim chief executive Marc Etches said Lincolnshire "will be left out in the cold nationally and internationally".
"The decision to cut Visit Lincolnshire's funding flies in the face of government policy.
"David Cameron wants to see domestic tourism grow in the UK from 36% to 50% of all tourism expenditure and Lincolnshire is well placed to help make that happen, but it requires partnership working between industry and the public sector," he said.
Visit Lincolnshire promotes the county as a holiday destination and also publishes guides to resorts and organises marketing campaigns.