Skegness station buildings demolition criticised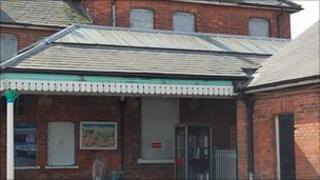 The latest phase of a £21m investment in the rail line to a Lincolnshire town has provoked criticism.
Improvements on the Boston to Skegness route are aimed at boosting the area's economy and attracting more visitors.
But the demolition of a series of derelict Victorian buildings at Skegness station has been labelled a mistake.
Skegness Civic Society said more effort should have been put in to finding alternative uses for the structures.
Many of the red brick buildings have stood derelict for some years.
'New era'
John Byford, from the Skegness Civic Society, admitted the station needed investment but felt the Station Master's House in particular would be missed.
"We tried to get a seaside museum, a coffee shop or something in there because it was such an important building.
"We tried and tried and campaigned and put offers on the table but because of the financial situation it has not come about.
"I think we should have saved this building because in years to come I think we will see it as a mistake."
But the mayor of Skegness, Sue Binch, said: "It is very sad to see because it has been a bit of an icon for Skegness for a long, long while but we have to move into the 21st Century.
"The station was in need to regeneration and hopefully this will be a new era for Skegness."
Lincolnshire County Council said it was working with Network Rail on plans for a continental style piazza with shops and cafes for the area.