Environment Agency objects to super dairy plans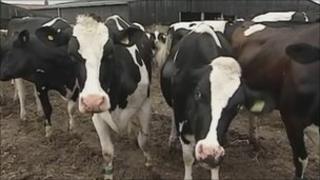 The Environment Agency has lodged an objection to plans for a "super dairy" housing 3,770 cows in Lincolnshire.
Nocton Dairies Ltd wants to build the facility, which would be the UK's biggest, near Lincoln.
The agency said it was concerned about the potential for pollution seeping through limestone into groundwater, from where drinking supplies are drawn.
North Kesteven District Council is due to consider the planning application in March.
The company previously submitted proposals for an 8,100 cow dairy at the site, but later pulled the plans citing "technical issues".
'Based indoors'
Animal welfare campaigners had opposed the idea and some residents said they were concerned about the impact on the local roads and environmental issues.
Under the new plans, cows will be kept in "mini herds" based mainly indoors, but would be allowed to graze outside at certain times in the summer.
Nocton Dairies said the buildings at the site would be "light and airy" with high welfare standards.
But some campaigners have insisted the size of the operation would blight the area, damage smaller farmers and pose a risk to the health of the cows.
The Environment Agency stressed its objection was not related to the size of the dairy, but whether it was appropriate in that area.
A spokesperson said: "We decided to object because we don't think the risk to groundwater can be mitigated by the developer."