Row over cancelled Lincolnshire music festival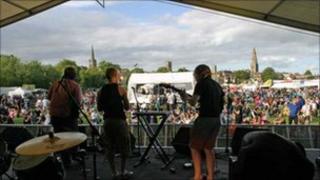 An annual Lincolnshire music festival has been cancelled because of disagreements between the organisers and town council.
Stamford Riverside Festival has run in its current form for more than 10 years on The Meadows in the town centre.
But plans to run the event this year in tandem with a celebration ahead of the Olympics have raised safety concerns.
Organisers claim officials have refused to meet, but the council says it continues to "welcome dialogue".
Festival organisers said the town council had requested verified audited accounts from the association before it would allow the event to be staged and before it would meet with them.
Jenny Collins, a festival director, said they were unable to obtain verified audited accounts because of the fee involved.
She said: "I feel gutted that we can't put it [the festival] on. The volunteers are disappointed, the bands and artists are disappointed.
"It is devastating after all the work that goes into it. It's a slap in the face to all of us."
In a statement, Stamford Town Council said: "Stamford Town Council has always unequivocally supported the Riverside Festival's charitable objectives, to which purpose it has been pleased to make the Meadows available to the festival's organisers, entirely free of charge, to mount this hugely popular annual event.
"Given the popularity of the Riverside Festival over previous years and the large numbers attending, it is entirely reasonable to predict that the proposed two successive events in 2011 would attract even greater numbers and that, consequently, existing public safety and crowd control measures would require re-evaluation.
"The Riverside Festival organisers seeming reluctance to provide verified, audited accounts in respect of their undertakings is regrettable, but entirely their own decision.
"It goes without saying that Stamford Town Council continues to welcome dialogue with the Riverside Festival organisers."