Pub lessons after Theddlethorpe school floods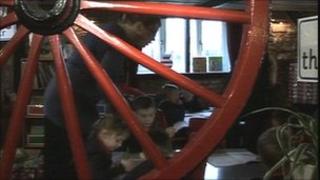 Children are having lessons in a Lincolnshire village pub after burst pipes forced them out of their school.
Theddlethorpe Primary School, near Louth, is one of 53 in the county affected by water damage.
Teachers moved in to spare rooms at the King's Head on Monday and could be using them until February.
Across the county, burst pipes have caused more than £800,000 of damage to school buildings and replacing equipment may take the figure over £1m.
Adrian Sanders, head teacher at Theddlethorpe, said: "We had to find some alternative accommodation for them and fortunately we have been able to use the closest building to school, which is right opposite the school.
"Children can still come to the school for school meals, play time and assembly, so we can still operate as one school."
Maintenance check
The county council said work to all schools was covered by insurance and disruption to teaching had been kept to a minimum.
Debbie Barnes, assistant director of children's services at the county council, said hard work by maintenance and teaching staff had prevented all but a handful of pupils losing teaching time.
Ms Barnes also rejected any suggestion school heating systems had not been looked after.
"With all of our schools we do an annual conditions assessment and we have an annual conditions programme," she said.
"There is a capital budget allocated from the local authority to target schools in terms of their conditions, so that is something we are constantly updating."