Drivers warned over icy conditions in Lincolnshire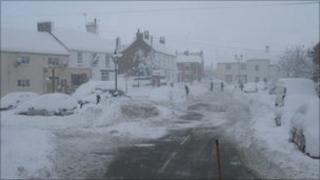 Driving conditions in Lincolnshire are expected to become extremely difficult overnight as temperatures fall once again.
Black ice is predicted in many areas and Lincolnshire Police are urging drivers to take extreme care.
Gritters have now put 10,000 tonnes of salt on the county's roads compared to just 500 tonnes this time last year.
Darrell Redford of Lincolnshire County Council's Highways said there were now fears melting snow would turn to ice.
He said temperatures would drop rapidly during the night.
"And of course with all this water about, we're going to get freezing, and so the problem will be ice today and it will be for the next few days so just be very, very wary."
Highways officials said despite there being less snow, lorries were still getting stuck in icy conditions.
Food supplies
Volunteers were on standby this weekend in the county to give help to vulnerable people unable to leave their homes.
Teams from the Red Cross have been using 4x4 vehicles to reach the most difficult areas.
Lynne McLean, from the Red Cross, said: "I would expect to see the same volume of calls as what we've had in the last couple of days, mainly for food.
"The snow isn't going anywhere at the moment, so we're going to find more people that are actually running out because they probably thought they'd got enough to last them."
Meanwhile, the Nomad Trust shelter in Lincoln, which helps homeless people, said it had taken in more people since the snowy conditions began.
Brenda Shields from the charity said: "As soon as we get more than our normal bed spaces which is 17, as soon as we start to get more than that in then we have extra staff on and we'll take people in."
More than 200 of Lincolnshire's schools were shut on Friday and there were cancellations and revised timetables on East Midlands Trains, with similar problems on Stagecoach buses.
The early snowfall has also caused problems for Lincolnshire's farmers.
John Crest, who has 600 sheep and 4,000 pigs near Washingborough, said it was crucial the animals were regularly fed and watered, but the reliability of feed deliveries from Yorkshire or near Ipswich was being affected by the weather.