Lincolnshire faced with continuing snow disruption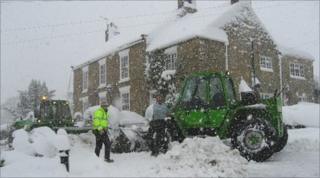 Lincolnshire has faced more disruption as further snow continued to fall across the county.
Almost 250 schools were closed for the day with many confirming they will remain shut on Friday.
Drivers are being warned to take care on roads and only travel when necessary, as temperatures are predicted to fall as low as -4C (25F) .
Most main roads are passable but there are problems on some routes from snow and broken down vehicles.
The A157 in Welton le Wold was blocked for a time, as was the A1084 Grimsby Road in Caistor.
The A151 in Grimsthorpe, the A46 at Lincoln and the A52 at Grantham have all seen problems.
The severe weather has led to the cancellation of some East Midlands Trains services or forced the introduction of revised timetables while Stagecoach buses are also affected.
Emergency services have been put under pressure. Gary James from NHS Lincolnshire has advised people to think hard before calling 999.
Heavy snowfall
He said: "There is also the 111 number which is for urgent help. So if you want urgent help but you think perhaps you don't need an ambulance we'd encourage you to ring 111.
"We've got call takers who can help you with a whole range of services and they will pass you through to 999 if they feel a 999 response is needed."
Lincolnshire County Council has set up a non-emergency winter helpline for anyone needing weather-related assistance.
The service is available for anyone who has been unable to replenish essential food supplies, medication or fuel because of the difficult conditions.
Officials said they had already spread thousands of tonnes of grit on roads in an effort to keep them usable.
The Met Office has predicted less snow in Lincolnshire on Friday but temperatures will stay below freezing throughout the day.