Police chief wants volunteers to collect fingerprints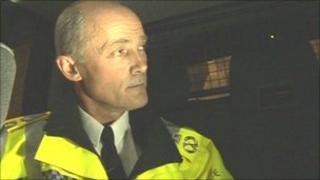 Lincolnshire's chief constable is calling on volunteers to collect evidence such as fingerprints as part of a move to cut costs.
Chief Constable Richard Crompton said the force needed to cut £20m from its budget in the next four years which could mean the loss of 70 officers.
He denied the move was "policing on the cheap" but an expansion of volunteering that was already used in the force.
Mr Crompton said the force would be consulting with the public.
'Reliant on volunteers'
"We are interested in doing some forensic work with volunteers actually training them to assist at very, very low-grade forensic scenes," he said.
"We also work very closely with volunteers who work in Neighbourhood Watch and Victim Support and a whole range of other things.
"It is not policing on the cheap - it is people volunteering to do their bit within society," the chief constable said.
Lincolnshire Police Authority chairman Barry Young said the volunteer work would depend on the particular case but certain work like fingerprint dusting was possible.
"If somebody knows what he is doing - why do we need to have somebody paid to do it?
"There are cases where it would be wholly appropriate for volunteers to be used but there are other cases where it is wholly appropriate" such as the installation of speed signs in villages, he said.
He said the force was "heavily reliant" on volunteers for everything from walking police dogs to neighbourhood watch and this will increase in the future.