Plaster paintings discovered in shopping centre storage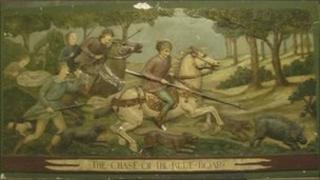 Three large plaster paintings dating back to the 1920s have been discovered tucked away in a store room at a shopping centre in Lincolnshire.
The George Centre in Grantham was the former George Hotel but closed in the 1980s and was later redeveloped.
The paintings were originally hung in the hotel ballroom but were put in storage decades ago.
Their value is not known and people living in Grantham are being asked to help identify the artist.
Ballroom paintings
Auctioneer Colin Young said it is difficult to estimate the value of the paintings, but said it would cost tens of thousands of pounds to create them today.
"The paintings are on a plaster base which on a horsehair gauze that is holding and binding them together," he said.
"The detail is a painstaking effort by whoever sculpted them …. Today you would certainly be looking at a commission in tens of thousands of pounds."
A photograph of the George Hotel from the 1980s shows the paintings on display in the dining room - which was formerly the ballroom.