Reward over shooting of Osprey in Lincolnshire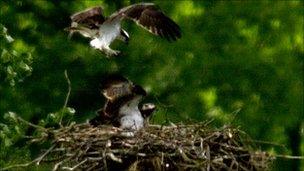 The RSPB has offered a £1,000 reward for information in connection with the shooting of an Osprey in Lincolnshire.
The young bird, which was tagged in Sweden, was found near a fish farm at Hundon Manor, Caister.
Lincolnshire Police said veterinary tests revealed that it had been shot twice with a shotgun.
Mark Thomas, RSPB investigations officer, said: "The shooting and subsequent death of this bird is sickening."
The Osprey became extinct in Britain between 1916 and 1954 because of illegal persecution.
The bird was one of three chicks hatched from a nest in Spjutholmen, Sweden in June 2010 and during its short life had crossed the North Sea and was well on course to undertake its first migration to Africa.
Wildlife crime officer for Lincolnshire Police, Nigel Lound said: "We know this bird was ringed in Sweden and was only 86 days old.
"These birds are extremely rare and it is terrible that one has been shot in Lincolnshire. We need anyone who has any information to get in touch with us as soon as possible."
Related Internet Links
The BBC is not responsible for the content of external sites.