Skegness lifeboat station 'one of busiest' in England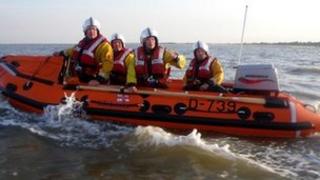 Skegness lifeboat station was one of the busiest RNLI stations in the country this summer.
Figures from the Royal National Lifeboat Institute for June, July and August show the Skegness station carried out 39 launches.
That compares with 53 call-outs in the summer of 2009, which was considered a very busy period.
Skegness was the busiest in the RNLI's northern region and 11th busiest out of 232 stations nationwide.
Quiet beaches
The figures show lifeboats in the charity's north division launched on average six times every day over the summer period.
Sunderland lifeboat was launched 37 times and Hartlepool 36 times.
The RNLI's Andy Clift said: "The RNLI's lifeboat crews and lifeguards have been kept busy at a time when most people are relaxing and taking holidays.
"Even though the weather this summer was not particularly good and the beaches seemed a little quieter than normal, our lifeboat volunteers still had to deal with a greatly increased demand for their services in June, July and August."
The RNLI's north division has 33 lifeboat stations and stretches from Berwick-upon-Tweed to Skegness on the east coast and Silloth to West Kirby on the west coast.
Overall, the total number of RNLI lifeboat launches was lower than last summer, with 3,917 launches compared with 4,102 last summer.