Lincolnshire County Council backs down over girl's walk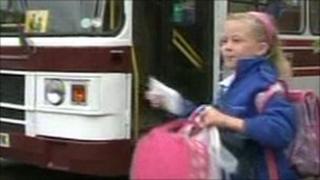 Lincolnshire County Council has decided to take no further action over a father allowing his seven-year-old daughter to walk alone to a bus stop.
Mark McCullough, from Glentham, said his daughter Isabelle was capable of walking 20m (65ft) to the stop.
The county council told Mr McCullough and his partner Natasha Fegan the matter could be reported as a "child protection issue".
A council spokesperson said the letter may have been worded too strongly.
'Independent' child
Debbie Barnes, assistant director of Lincolnshire County Council's Children's Services, said: "The safety of children is the responsibility of everyone and where a member of staff brings a situation to our attention where the safety of a child or adult is compromised, we must react.
"NSPCC guidance states that children under eight should not be out alone; in this instance, a seven-year-old girl has been standing unaccompanied on a roadside and left to cross the road by herself."
She added that "with hindsight we accept the letter could have been phrased better and we have no intention of going down the child protection route or court action" and that the council would like to sit down with Mr McCullough to discuss the issues.
Ms Fegan said the family thought Isabelle was independent enough to walk to the bus stop on her own.
"She enjoys going to school on her own," she said.
"How long can you keep hold of the reins and not let them go out on their own?
"This has got so much public attention that we will have to be outside with her for the foreseeable future because now everyone knows there is a seven-year-old standing on the side of the road every morning.
"It's only a quiet, little country road. You could sit there all day and maybe see 20 or 30 cars in a 24-hour period," she added.
Previously Mr McCullough said the situation had made him angry.
"I'm not going to wrap my children up in cotton wool," he said.
"For a seven-year-old not to be able to walk 20m to the top of the courtyard and cross a quiet country road is an absolute joke."