Lincolnshire family warned over girl's bus stop walk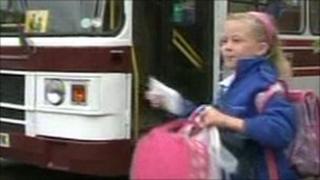 A Lincolnshire family have been warned they could be reported to social services for letting a seven-year-old girl walk alone to the school bus stop.
Mark McCullough, from Glentham, said his daughter Isabelle is capable of walking 20 metres (65 ft) to the bus and crossing a road home.
But the county council said it was concerned for her safety and the road was too busy for her to cross alone.
The authority said it wanted to meet with the family to discuss the issue.
'Absolute joke'
Mr McCullough said the county council sent a letter saying the matter may be reported as a "child protection issue".
"This has made me angry. I am happy for Isabelle to walk from home to the end of the road and, if necessary, cross a country lane and walk home.
"I'm not going to wrap my children up in cotton wool. For a seven-year-old not to be able to walk 20 metres to the top of the courtyard and cross a quiet country road is an absolute joke," he said.
Mr McCullough said he could see the bus stop in Chapel Court from the end of his drive.
Denise Carr, the county council's head of transport services group, said: "As a responsible authority, we have expressed our concern that a seven-year-old is standing on a busy road alone each morning, and then crossing the road unaccompanied after school.
"The bus driver should not be expected to leave a bus full of young children alone to escort the pupil safely across the road.
"As the pupil was also left standing by the roadside on a cold morning without warm clothing, we have raised our concerns with the girl's parents, following discussion with the school.
"Safeguarding is the responsibility of everyone, and where we become aware of anything that compromises the safety of a vulnerable child or adult, we will take steps to address it."