Lincolnshire Police tractor fights rural crime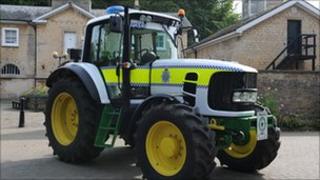 A tractor has been "pimped up" in police livery - complete with blue flashing light - to help fight criminals in rural Lincolnshire.
The John Deere 6630 will be a star attraction at farmers' markets, where it will be used to raise awareness of crime prevention techniques.
It will help promote the use of Smartwater DNA marking and the Farm and Country Business Watch scheme.
Police said the tractor was a bit of fun but carries a serious message.
It will also tour auctions and other countryside events throughout September.
Ch Insp Phil Vickers said: "We recognise that, when a working vehicle is stolen, it has a massive impact on businesses and livelihoods.
"However, there are steps that individuals can take to reduce their chances of becoming a victim of rural crime and this month's initiative is all about making them aware of the deterrents available.
"We are delighted to have the support of John Deere UK who have allowed us to use the tractor free of charge, and the National Farmers Union who have funded the change of livery."
SmartWater is a colourless liquid solution which can be used to uniquely mark property, identifying its rightful owner.
The Lincolnshire Farm and Country Business Watch scheme is designed to encourage people who live and work in the countryside to be vigilant, share their knowledge and reduce opportunities for crime and vandalism by reporting anything suspicious to the police.