Mental health volunteer to cycle 145 miles for charity
By Tom Oakley
BBC News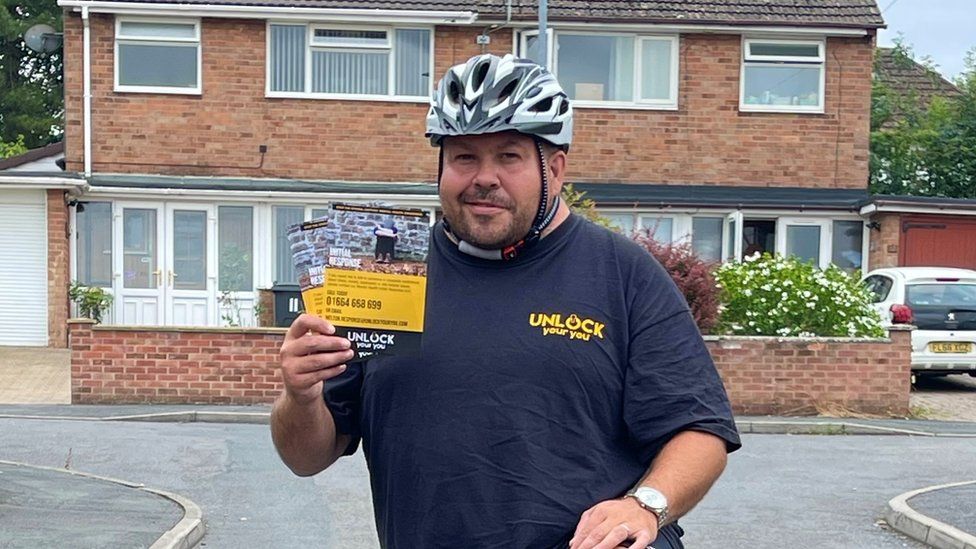 A mental health charity volunteer who has battled "crippling" depression after being abused as a child is taking on a mammoth cycle challenge.
Darren Atwood will ride 145 miles from London to Melton Mowbray on 24 August in support of Unlock Your You.
The 36-year-old, from Melton, started volunteering after the charity helped him through his mental illness struggles.
He will complete the challenge over four days - cycling 36 miles a day.
Mr Atwood, who is training to be a counsellor himself, said he would be "forever grateful" for everything the organisation had done to support him.
"For years I have struggled with my mental health after suffering from historic child abuse," he said. "I started to develop severe anxiety and PTSD due to the extreme trauma I suffered, leading to regular panic attacks on an almost daily occurrence.
"I desperately needed something to make it go away, so I started drinking heavily to try and make the pain go away and for it to stop.
"When I turned 30 I was feeling isolated, trapped, and terrified; I contemplated ending my life."
Mr Atwood has already raised £1,000 for the charity and hopes to raise awareness of its work during his challenge.
He added: "I knew with my beautiful wife and two amazing young children to consider, I had to get help and I needed help fast.
"I can't believe how close I came to losing everything - this bike ride is for Unlock Your You who and all the amazing volunteers who helped me through it all."
Related Internet Links
The BBC is not responsible for the content of external sites.