Woman finds Sydney Arrobus artworks among church bric-a-brac
By Amy Payne & Jennifer Harby
Journalist, BBC East Midlands Today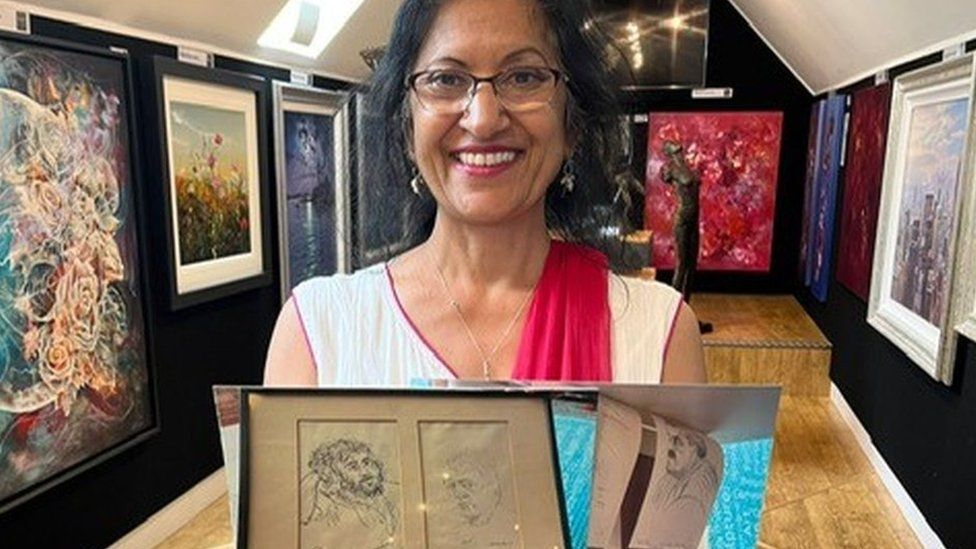 A woman who found two portraits by a 20th Century British artist on a church bric-a-brac stall has described it as her "Fiona Bruce" moment.
Sheila Caberwal was serving on the stall at St Nicholas' Church in Little Bowden, Leicestershire, when she found the pair of pen-and-ink portraits.
She discovered they were by artist Sydney Arrobus, who has works in the National Portrait Gallery.
She said she now plans to auction them to raise funds for charity.
She said she had found a label on the back of the works with Sydney Arrobus' name on and the same name and a date on the edges of the portraits.
"It was a real, genuine Fiona Bruce moment," she added, referring to the Antiques Roadshow and Fake or Fortune presenter.
"I felt a tremor of excitement. I was holding an original which had been signed and dated by the artist with a provenance.
"I am just amazed it has found its way to me. What I want to know is, who donated it to the church because local charities are going to benefit from this."
She said she had found Sydney Arrobus was a London-born artist who was known for his pen-and-ink portraits, of which several hang in the National Portrait Gallery.
A local gallery backed up her findings and, with the support of the church, Ms Caberwal has decided to auction the paintings for charity later this month.
They have a reserve price of £50 although Andrew Cartwright, owner of Wingates Gallery in Market Harborough, which helped Ms Caberwal identify the pictures - and discovered a further portrait on the reverse side of the works - believes they could sell for more.
"I'm delighted for Sheila," he said.
"This kind of thing doesn't happen that often. You only see it every so often on TV."