Cost of living: Leicester food bank struggling to open
By Amy Phipps
BBC News, East Midlands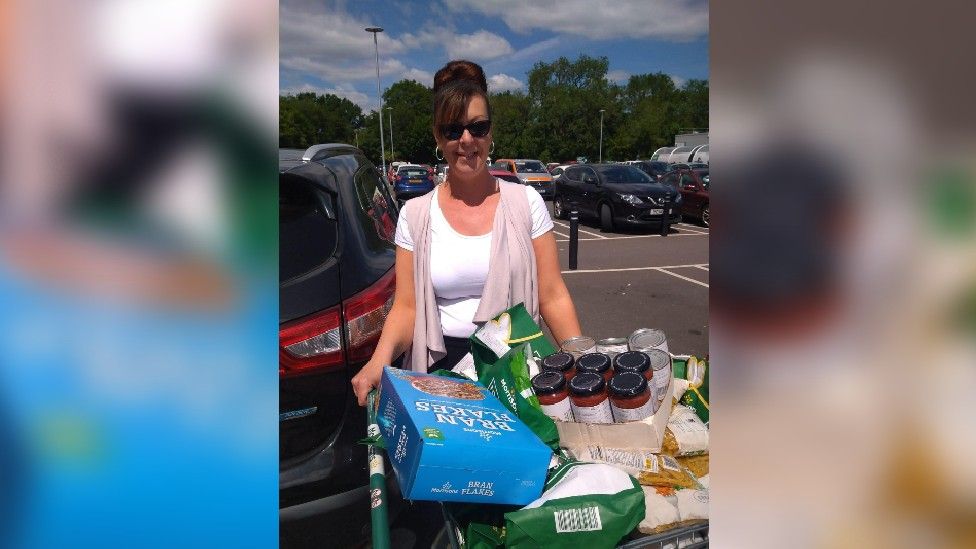 A woman who set up a food bank in Leicester during the pandemic says she is struggling to get enough donations to keep it running.
Donna Elliott said she has had to close the food bank in New Parks twice this month due to a shortage of food.
She said some businesses could no longer afford to give away donations while others were choosing to send food to Ukraine instead.
However, she said more people were now coming to them for help.
Ms Elliott said the food bank at New Parks Club for Young People usually opens two days a week but had to close last week.
"On the Monday we ran out of food, so on the Wednesday I had to message everyone and say we're not open.
"It makes me feel awful and it breaks my heart knowing that we can't help them but times are hard and we can't give what we haven't got," she said.
Ms Elliott said some companies had started dividing their donations with other appeals.
"The last three weeks we've not had a donation from our biggest supplier and that's all because it's going to Ukraine at the moment," she said.
Another business owner said they could no longer afford to keep donating food due to rising costs, she said.
But Ms Elliott said the cost of living crisis meant demand for the food bank was higher than ever now with new families being referred each week.
"It's affecting everyone in the community. It's working families and the elderly," she said.
Ms Elliott said the food bank does not have reserves and operates week to week based on what donations it can get.
She said she could continue to open this week after receiving two very generous donations but was concerned about the future.