Abdirahim Mohamed: Man lured to death by fake drugs deal, court told
By Greig Watson
BBC News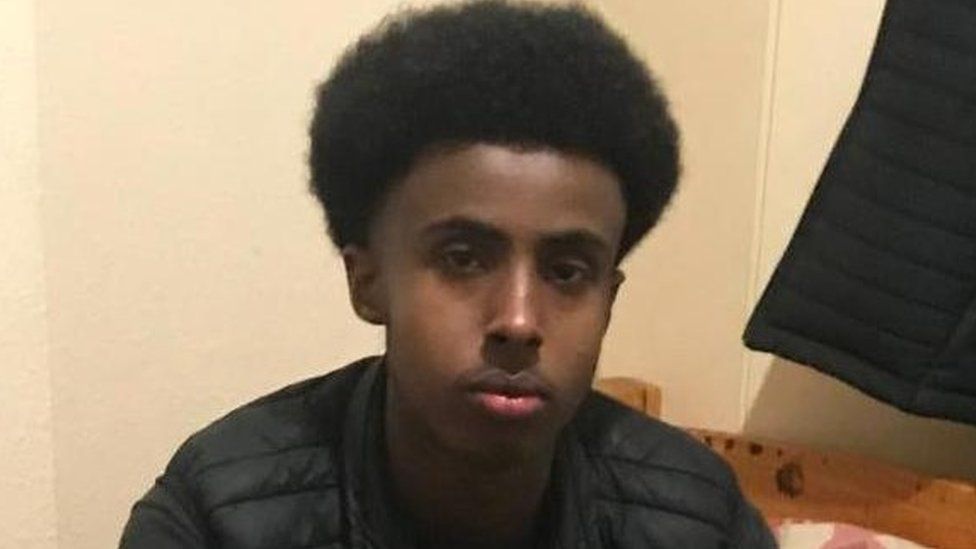 An 18-year-old man was stabbed to death after being lured to a fake drugs deal, a court has heard.
Abdirahim Mohamed, 18, was attacked in Melbourne Street, Leicester, on 8 September and died early the next day.
Leicester Crown Court heard Rizwan Gul and two others were robbed when a gang burst into a flat in the city just after midnight on 7 September.
The prosecution said this led to Mr Mohamed being ambushed near a park during the bogus drug deal.
James House QC, prosecuting, said phone records, CCTV and witnesses showed how Mr Gul organised the attack after issuing a series of threats to Mr Mohamed.
Jurors heard Mr Gul and two friends were attacked in a flat in St Saviours Road, where phones, money and a car were stolen.
One of these phones was used to organise drug deals, the court heard.
The following day, the court was told a series of calls and threatening text messages were sent by Mr Gul to various phones, including the drug deal phone now being held by Mr Mohamed.
Mr House told the jury on the day of the stabbing, Mr Gul bought an second-hand Audi for cash that was used, along with a Ford Mondeo, to take some of the defendants to the scene of the attack.
Additionally, the court heard that phone records showed Mr Gul contacted a number of associates, who then rang the stolen phone.
Mr House said this showed Mr Gul was asking them to contact Mr Mohamed via the stolen phone and arrange to meet to buy drugs.
He said: "This was Rizwan Gul attempting to lure Abdirahim Mohamed into a trap.
"The sequence shows, we suggest, there was a plan."
At about 23:40 BST, witnesses close to a park in Melbourne Street described six men in balaclavas getting out of the Audi, at least four of them carrying large knives.
They also reported the sound of "rowdy youths running" followed shortly after by loud screams.
A post-mortem examination showed Mr Mohamed suffered seven stab wounds, two serious, along with a fractured skull.
The accused men, who all deny murder, are:
Rizwan Gul, 26, of no fixed address
Mohammed Israfeel Gul, 28, of New Way Road, Leicester
Abdul Hemid Suleman, 59, of Jupiter Close, Leicester
Zakir Brant, 26, of Bale Road, Leicester
Daniel Pollard, 30, of Calder Road, Leicester
Mohammed Hansrod, 30, of Dulverton Road, Leicester
Bhavic Parmar, 26, of Bowling Green Street
Three other men, who deny assisting an offender, are:
Khatib Gul, of Apollo Court, Leicester
Farhad Ali Saleem, of Frederick Road, Leicester
Adam Brant, of Bale Road, Leicester
Related Internet Links
The BBC is not responsible for the content of external sites.