Rail strikes: Frustration in the East Midlands as services disrupted
By Sonia Kataria & Victoria Hicks
BBC News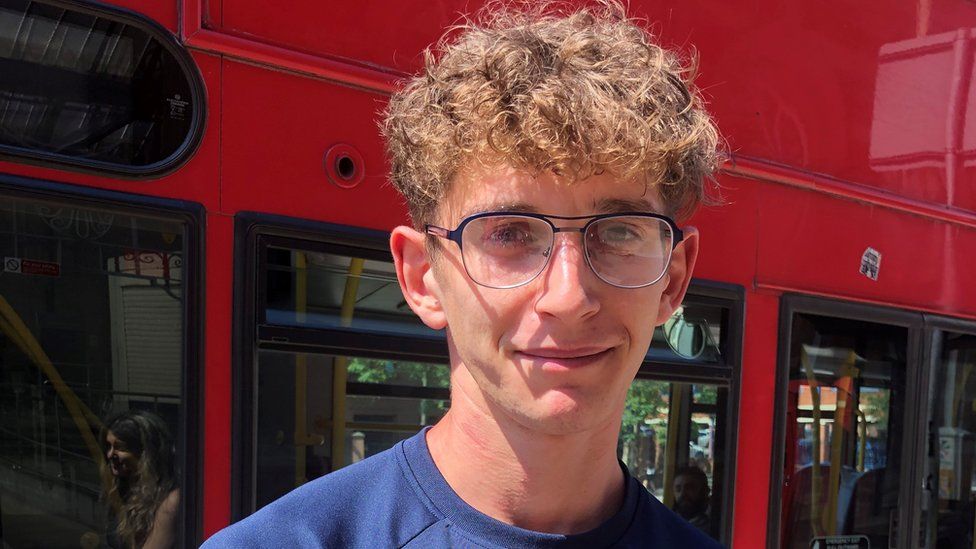 The biggest train strike in 30 years has impacted travel across England, Scotland and Wales - and the East Midlands was no exception.
People travelling for appointments or commuting for work have had their plans derailed by the strike action, which has seen tens of thousands of staff walk out over pay, redundancies and reforms to working practices.
Two more days of strikes are planned for Thursday and Saturday.
Krystian Oeonowski, who was travelling from Leicester, told the BBC he was frustrated he would be more than three hours' late for a job appointment in Peterborough.
Mr Oeonowski said: "My train was supposed to be 09:41, then it changed.
"I was supposed to be in Peterborough at about 11:00 or 10 something - losing three hours.
"I'm late for that appointment and that's the last appointment they gave me."
Passengers in the region were warned to only travel by rail if necessary during the industrial action, as East Midlands Railway (EMR) said it would be running a reduced service.
One commuter, who was leaving Derby railway station for his first day on a new job, said he was concerned about potentially finishing work early.
"If I return home later, the trains are only available until 18:00, so I think I might have to go home early from work, which would be terrible," he said.
"It's my first day of the job so I need to discuss it with them. I hope it's not an awkward conversation."
Nicole Payseur, who is visiting Leicester from Texas, in the US, felt the action had caused "disruption to a lot of commuters".
"I took the overpass to King's Cross and it seemed like my train [to Leicester] I was going to catch was waiting, but it was delayed," she said.
"So they made us switch over to another train. They said the conductor couldn't get in because of the rail strike.
"We just sat there. Eventually we left, but I do think it was a disruption to a lot of commuters."
One man in Derby, who was supportive of the industrial action, said: "I think [the strike] should continue until there's a decent agreement between the government and the rail people, so they can give the workers a reasonable amount of money to live on."
John Watson, from the RMT union in the Midlands, said there was "no perfect time" to take action.
He added: "Our members are saying enough is enough.
"They haven't had a pay rise in three years, they are saying their expenses are - the same as everyone else in the country - going up all the time.
"I travel every day into work, so I'm affected by these strikes as much as other commuters are.
"There is no perfect time to have strike action, somebody is always going to be affected."
When? There will be rail strikes on Tuesday, Thursday and Saturday and a London Underground Strike on Tuesday.
Where? Almost all major lines in England, Scotland and Wales will face disruption. Affected services include: Avanti West Coast; C2C; Chiltern Railways; Cross Country Trains; Croydon Tramlink; Greater Anglia; LNER; East Midlands Railway; Elizabeth Line; Great Western Railway; Hull Trains; London Underground; Northern Trains; South Eastern Railway; South Western Railway; TransPennine Express; West Midlands Trains.
Who? The RMT union's members include everyone from guards and catering staff to signallers and track maintenance workers. Train driver members of the Aslef union will be striking on Thursday and 2 July on Greater Anglia and 28, 29 June and 13, 14 July on Croydon Tramlink.
Why? The RMT is striking over job cuts, pay and conditions. It says members working for train companies face "pay freezes, threats to jobs and attacks on their terms and conditions". The union says it wants a deal reflecting the increased cost of living. Transport secretary Grant Shapps has said the strikes were "completely unnecessary".
Related Internet Links
The BBC is not responsible for the content of external sites.