Firm guilty of manslaughter after yard workers drowned in pig feed
By Amy Phipps
BBC News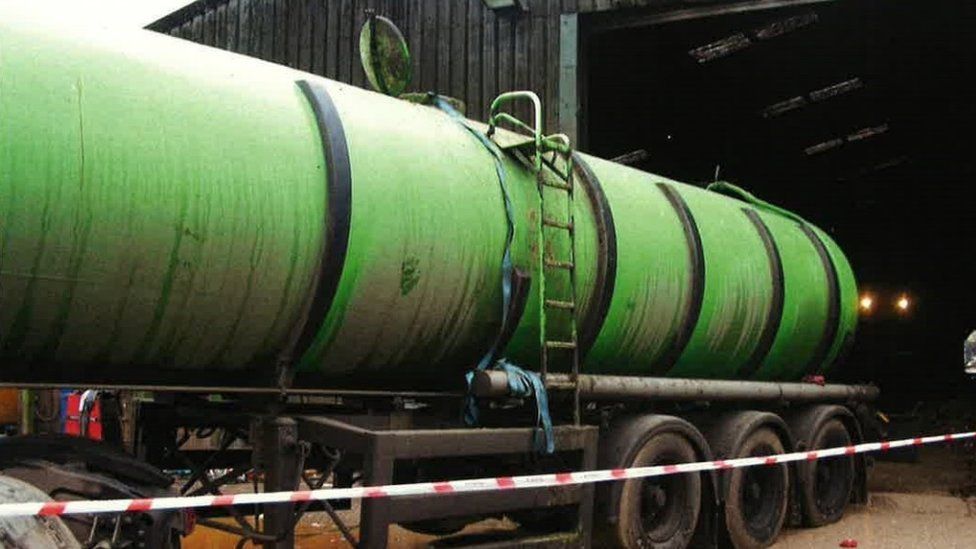 A food waste recycling company has been found guilty of corporate manslaughter after two employees drowned in a tanker of semi-liquid pig feed.
Nathan Walker, 19, and Gavin Rawson, 35, died in December 2016 at Greenfeeds Limited in Normanton, Leicestershire.
The firm's managing directors - Gillian and Ian Leivers - and manager Stewart Brown were also convicted at Leicester Crown Court on Tuesday.
They are due to be sentenced at the same court on 16 June.
On 22 December Mr Walker, who was a member of yard staff at the company, climbed into the tanker to clean it after it was found it could not be fully emptied.
He got into difficulty and his colleague Mr Rawson attempted to rescue him.
The men were released after a saw was used to cut holes in the side of the tanker.
Emergency services attempted to resuscitate them but they died at the scene.
A post-mortem examination concluded both Mr Walker and Mr Rawson died as a result of drowning.
During the trial, the prosecution accused the owners of the company of putting profits before the safety of their employees.
Greenfeeds Limited and its bosses were convicted following a six-week trial.
Det Con Kirsty Iqbal, from Leicestershire Police, said: "Investigations showed that the system which was used to clean out the tankers at Greenfeeds Limited was so fundamentally dangerous that fatal consequences were virtually certain.
"Mr Walker and Mr Rawson had their futures taken away from them simply because the firm did not have the correct safety procedures and equipment in place."
A statement released by the family of Mr Walker said: "Nathan was only 19 years of age when his life ended through no fault of his own.
"Nathan was expecting his first child with his partner when he died. His son was born 15 days after his death.
"Nathan's death was cruel and there was no sense in it. The shock, horror and grief of hearing that our son had been killed will stay with us for the rest of our lives."
Mr Rawson's family said: "Although it breaks our hearts, we are so proud of Gavin and what he did that day.
"He did what he always did and went to help someone in need, despite the danger to himself.
"He was our hero and we will always remember him that way."
Greenfeeds Limited were found guilty of two counts of corporate manslaughter.
Gillian Leivers, 60, of Fosse Road in Newark, Nottinghamshire, was found guilty of two counts of gross negligence manslaughter.
The company had already pleaded guilty to failing to ensure the health and safety of its employees. Mrs Leivers and her husband Ian Leivers, 59, of Fosse Road, Newark, were convicted of allowing Greenfeeds to commit this offence.
Stewart Brown, 69, of Fernwood Close in Mansfield, Nottinghamshire, was found guilty of failing to ensure the health and safety of his co-workers. He was cleared of two counts of gross negligence manslaughter.
Related Internet Links
The BBC is not responsible for the content of external sites.