MP Claudia Webbe loses appeal against harassment conviction
By Alex Smith & PA news agency
BBC News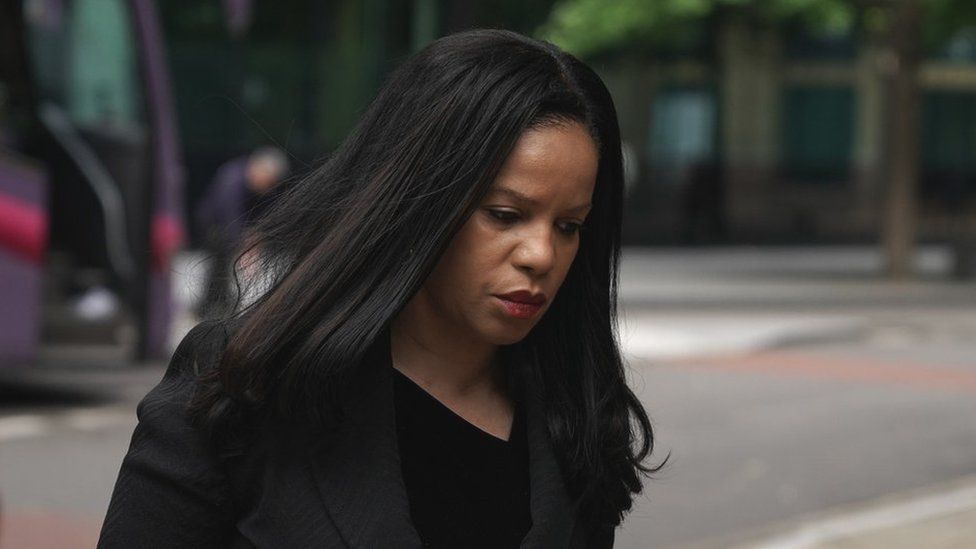 An MP has lost an appeal against her conviction for harassing a woman who was having a sexual relationship with her then partner.
Her appeal was dismissed at Southwark Crown Court on Thursday.
However the 10-week suspended sentence she received in November was reduced to community service.
Judge Deborah Taylor and two magistrates ruled this should amount to 80 hours - a reduction from the 200 hours she was originally ordered to complete.
A trial at Westminster Magistrates' Court heard Webbe was jealous of Ms Merritt's relationship with Lester Thomas.
The 57-year-old - who represents her constituency as an independent after being expelled from Labour - made numerous calls to Ms Merritt in a campaign of harassment over the course of 18 months.
Her trial heard on one occasion she made an "angry" call, used a derogatory term and added: "You should be acid."
It also heard how Webbe threatened to send naked images of Ms Merritt to her family and a recording of a call in which she was heard shouting "get out of my relationship".
The appeal hearing heard Ms Merritt had reported being "threatened by a public figure with acid", but received 17 further phone calls lasting 14 seconds or less from Webbe after the MP was warned by police to stop contacting her.
The judge said the court found Webbe had not "made a threat to throw acid over" Ms Merritt but that a string of silent phone calls and threats to reveal naked pictures of her had been "a course of conduct which amounted to harassment".
The appeal heard since the trial, Ms Merritt's phone had been examined and downloaded by police, revealing sexual messages between her and Mr Thomas.
Webbe's barrister Helen Law suggested Ms Merritt had "lied" or "misled" the magistrates' court when she said she and Mr Thomas were just "good friends".
But prosecutor Susannah Stevens said: "What was going on between Michelle Merritt and Lester Thomas is actually unhelpful to the appellant's case because Claudia Webbe's suspicions as to all of that provide her not with a defence but with a motivation."
The MP said she had split up with Mr Thomas in March this year after learning of the messages he had shared with Ms Merritt.
By Tony Roe, BBC East Midlands political editor
The decision to overturn the custodial element of Claudia Webbe's sentence is significant as it means voters won't get a chance - for now - to say if she should be sacked as an MP, in what's called a recall petition.
We will now have to see if Parliament's Standards Committee decides to act on the conviction.
If she were to be suspended from Parliament for at least 10 days, that then is another route for a recall petition which would put Webbe's future in the hands of the voters of Leicester East.
Webbe entered the Commons in 2019, winning the seat formerly held by Keith Vaz.
Following her failure to overturn the conviction, she said she was "deeply shocked".
She said: "As I said in court and repeat now, I have never threatened violence nor would I."
Webbe's former party urged her to quit as an MP in the wake of the verdict.
A Labour spokesman said: "The allegations in this case were extremely serious.
"The Labour Party rightly expects elected representatives to maintain the very highest standards at all times.
"Ms Webbe should now resign so the people of Leicester East can get the representation they deserve."
Related Internet Links
The BBC is not responsible for the content of external sites.