Highway Code: 'Dutch reach' rule change to Highway Code welcomed
By Sandish Shoker
BBC News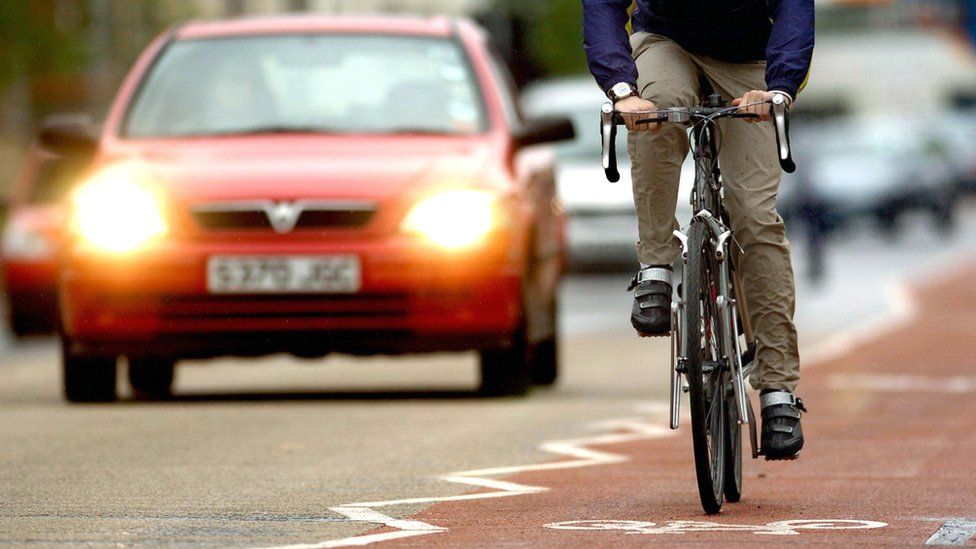 A method known as the "Dutch reach" is to be introduced to the Highway Code in the UK after years of campaigning.
The practice is used widely across Europe and encourages people to open vehicle doors with their opposite hand to avoid injuries to passing cyclists.
Cycling UK said the method helped drivers look for oncoming cyclists.
Mr Boulton said he had called for the change since his son's death on his 26th birthday more than five years ago.
He believes if it had been commonly used sooner, his son and many other cyclists would still be alive.
"Like most people we didn't know anything about the Dutch reach until Sam was killed," he said.
"If we had amended this rule 55 years ago when the Dutch brought it in, then Sam would definitely be alive today.
"It's such a simple thing that can save lives. It took me maybe a week and it becomes a normal habit every time I open that door.
"We don't want another family going through what we have gone through. It is five-and-a-half years but it is still raw for us.
"Hopefully this will save someone else and a family from losing a loved one. "
What is the 'Dutch reach'?
The technique is named after a method for opening car doors that has been standard practice by the Dutch for many years
It encourages people to use their opposite hand to open a vehicle door, forcing them to turn their body and head when getting out
This rule comes into force from Saturday
It is one of 11 new driving rules and changes due to be added to the Highway Code this year
Other key amendments include clearer guidance for drivers to leave a distance of at least 4.9ft (1.5m) when overtaking cyclists, and instructing drivers turning into a road to give way to pedestrians waiting to cross
Roger Geffen, policy director at Cycling UK, said the changes had been a long time coming and have been standard in Europe for many years.
"We have been waiting for these changes since the last major change we had to the Highway Code back in 2006/7," he said.
"The whole point of the review was to improve cycling and pedestrian safety, which are commonplace in continental countries.
"The 'Dutch reach' is not a concept that British people are used to but it is about time it became well-known and it's not a hard habit to learn.
"If people do it a few times then hopefully it could save someone's life."
Roads Minister Baroness Vere said: "I'm proud to say we have some of the safest roads in the world, but I'm determined to make them safer still for everyone.
"These updates to the Highway Code will do just that by bringing the rules into the 21st Century."
Related Internet Links
The BBC is not responsible for the content of external sites.