Ben John: Extremist ordered to read books is jailed
By Liam Barnes
BBC News and PA News agency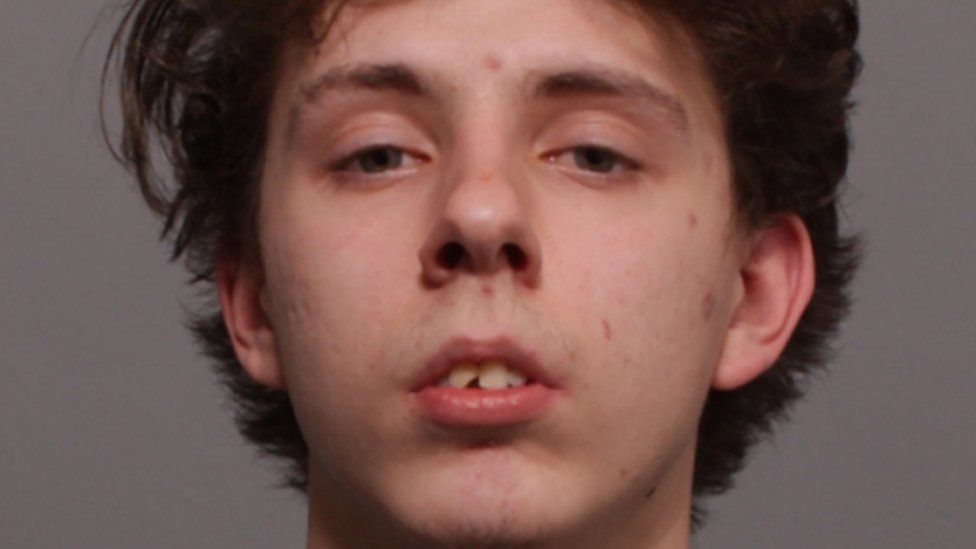 A man told by a judge to read classic literature after being found guilty of a terrorism offence will be jailed after a suspended sentence was quashed.
The 22-year-old was convicted of having a copy of The Anarchist Cookbook on a computer hard drive.
The Court of Appeal ruled the original sentence was unlawful and ordered John to serve two years in prison.
He will also spend a further year on extended licence.
Lord Justice Holroyde said: "We are satisfied that there must be a sentence of immediate imprisonment."
John, of Addison Drive, Lincoln, who attended the hearing via videolink, must hand himself in to police by 16:00 GMT on Thursday.
Last year, police said John had collected tens of thousands of documents in bulk downloads on to hard drives, which contained "a wealth" of white supremacist and anti-Semitic material.
The ex-student was charged under Section 58 of the Terrorism Act, and found guilty by a jury of one count.
Alongside a suspended sentence he was handed a five-year serious crime prevention order, with Judge Timothy Spencer QC ordering him to read famous works such as Shakespeare plays and Pride and Prejudice.
The defendant explained he had "enjoyed Shakespeare more than Jane Austen", and the judge concluded there had been "encouraging" progress.
The Attorney General's Office (AGO) referred his sentence to the Court of Appeal under the unduly lenient sentencing scheme.
It came after campaign group Hope Not Hate wrote an open letter calling for a review of the case.
Solicitor General Alex Chalk QC, who presented the AGO's case to the Court of Appeal, said there were "real concerns" over John's online activity, with him liking far-right material on social media days after telling the judge he had abandoned such thoughts.
Richard Wormald QC, representing John, said his client was "a young child" when he first came across the document, which was one of thousands among an "electronic library" that also included Marxist literature.
Pointing to the effect being held in remand had on the defendant, he said the judge's decision to suspend the sentence was "entirely sensible, carefully constructed and appropriate", with a "robust" rehabilitation programme also in place.
Lord Justice Holroyde, sitting with Mr Justice Lavender and Sir Nigel Davis, said certain offences required a mandatory year on licence, but a suspended sentence and licence cannot last for longer than two years, making John's sentence "unlawful".
"The judge had no power to impose a suspended sentence as he did," he said.
By Phil Mackie, BBC Midlands correspondent
After his trial in August, the judge said he thought John wasn't a "lost cause", and believed he stood a greater chance of rehabilitation without being incarcerated.
When the 22-year-old last appeared in court - on 6 January - he brought with him copies of Twelfth Night and Pride and Prejudice.
He was due to return to Leicester Crown Court in July to update the judge on his reading list.
We may never know what he was going to tackle next, or whether he will continue to plough through the classics in the prison library.
In what was an extremely unusual case, the former student appeared today via video link, but had to leave for several hours to go to work in a butcher's shop, before returning to hear that he will, after all, be going to prison.
After the hearing Mr Chalk said he was "pleased" to see the judges find the original sentence "unduly lenient".
"The government is committed to confronting terrorism in all its forms, including from the extreme right wing," he said.
"We remain focused on disrupting the activities of the most dangerous extremists, supporting those who stand up to their hateful rhetoric, and protecting vulnerable people being drawn into terrorism."
Nick Lowles, from Hope Not Hate, welcomed the new sentence, describing far-right extremism as "the fastest growing threat of violence in Britain today".
"The priority must be a focus on countering radicalisation, especially online, and making it harder for far-right activists to organise and recruit," he said.
"Ultimately, the main deterrent to most offenders comes in the social cost associated with being caught and convicted."
Related Internet Links
The BBC is not responsible for the content of external sites.