Stolen Anglo-Saxon brooch returned to Rutland museum after 26 years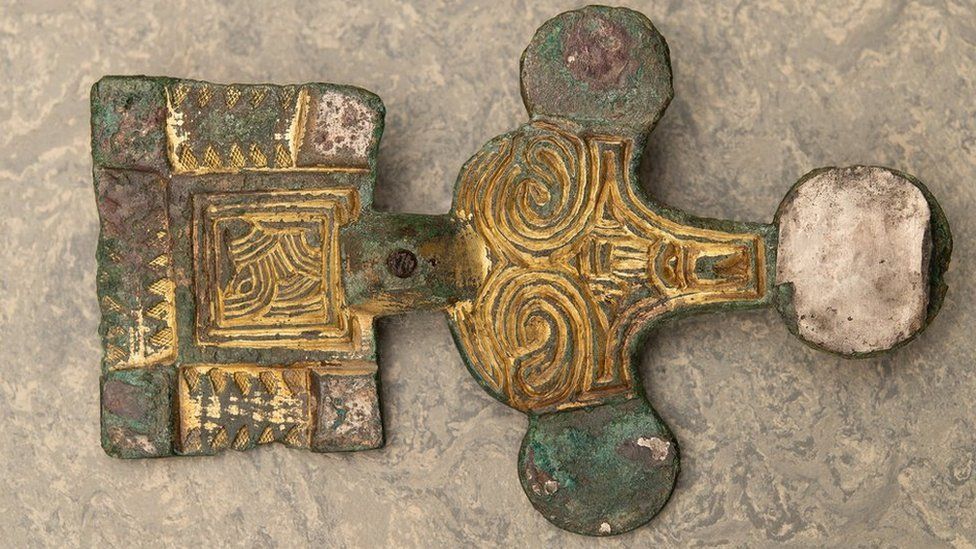 A brooch dating from Anglo-Saxon times has been returned to a museum 26 years after it was stolen.
The looted jewellery - a bronze-gilt square-headed brooch originally discovered in Market Overton in Rutland - was taken from Rutland County Museum with eight other brooches and a Roman ring in 1995.
The ring was recovered soon afterwards, but the brooches remained out of reach.
The brooch was sent anonymously by post to the Metropolitan Police last year.
Police used the London-based Art Loss Register to identify the item's origins, then stored the brooch safely until it could be returned to the museum after Covid-19 restrictions were relaxed.
The brooch belongs to Oakham School, and had been on loan to the museum as part of a collection.
Rutland County Council said it hoped to be reunited with the other eight brooches, and advised members of the public to be on alert for artefacts that may have been stolen.
Lucy Stephenson, the authority's cabinet member for culture and leisure, said: "The theft of these important artefacts was a huge loss to the county, and we are so pleased to have one of the items returned.
"These beautiful pieces of ancient craftsmanship provide an important link to our past.
"They belong on public display so that people have the opportunity to learn about our rich and unique local history."
Related Internet Links
The BBC is not responsible for the content of external sites.