Hisham Chaudhary: Oadby terrorist who funded IS with Bitcoin jailed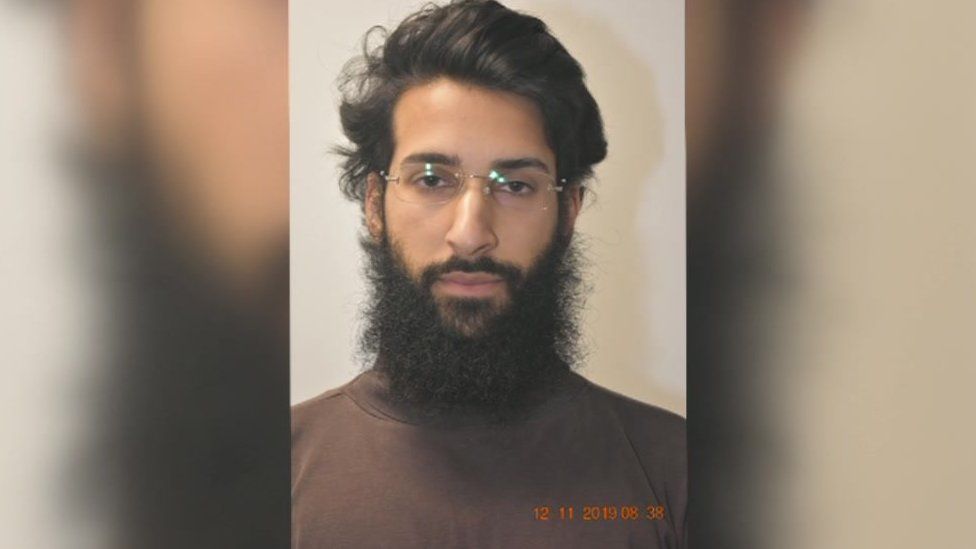 A man who funded the Islamic State (IS) group using Bitcoin has been jailed for 12 years.
Hisham Chaudhary, of Chestnut Drive, Oadby, Leicestershire, had denied converting tens of thousands of pounds into the cryptocurrency to back the organisation's terrorism.
He was found guilty of seven offences under the Terrorism Act in July.
Judge Paul Farrer QC said he was "a committed extremist" during sentencing at Birmingham Crown Court.
During the trial Chaudhary had claimed his funding had a "humanitarian purpose".
But Judge Farrer said: "You were involved in repeatedly organising the funding for the extraction of IS supporters from detention camps, and their subsequent smuggling back to IS-controlled areas."
The 28-year-old is thought to have been a member of IS since 2016.
Chaudhary's Bitcoin trading history showed he converted £52,000 into the cryptocurrency, sending some of it to unknown sources, the court was told.
A message sent by Chaudhary on the encrypted Telegram app read: "We've been doing this for years and no-one's been caught by the virtue of Allah."
Chaudhary was found guilty of four counts of disseminating a terrorist publication, two counts of funding terrorism and one count of membership of a proscribed organisation.
During the trial, the court heard Chaudhary produced a "jihad" video - described as a sinister "call to arms" - that was then spread through the internet.
Chaudhary posted some videos online using the name "John Smith", the court was told.
During sentencing, Judge Farrer said: "You're an intelligent man, but unfortunately your actions demonstrate you're a committed extremist intent on furthering a terrorist agenda for Islamic State.
"There is no reason to believe you will surrender these views lightly, and I conclude that you are, and are likely to remain, a dangerous offender for the foreseeable future."
He was given a 12-year custodial sentence with an additional five-year extension on licence after a Probation Service report concluded "he posed a high risk of harm to the public".
Related Internet Links
The BBC is not responsible for the content of external sites.