Bouncer assault woman tells club to 'clean up act'
By Caroline Lowbridge
BBC News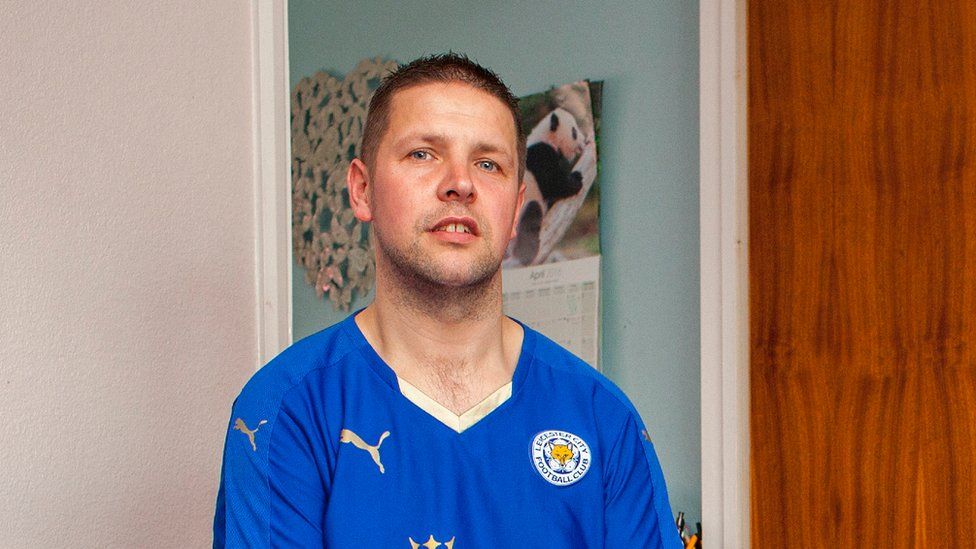 A young woman who was pinned against the wall by bouncers has called on a club to "clean up its act" after one of the men was prosecuted for assault.
The woman, who is 22, needed counselling and told the BBC she still feels anxious when she sees security staff.
One of the bouncers, Craig Sawbridge, admitted assault by beating and was given an 18-month community order.
The club, Mosh in Leicester, said Sawbridge no longer works for them.
However the woman, who did not want to be named, believes what happened to her raises wider issues about door staff.
"There were several members of staff involved that night and none of them put a stop to the assault or recognised that it was wrong to be assaulting a young woman," she said.
"The club needs to make sure this doesn't happen again."
Sawbridge assaulted the woman at Mosh in Leicester, while she was on a night out with friends, on 25 January 2020.
Marie Stace, prosecuting, told Leicester Magistrates' Court that the woman had started filming Sawbridge with her mobile phone, after he "physically removed" one of her friends from the club.
Sawbridge then asked the woman to delete what he thought was a photo, saying: "Delete that photo now! Delete that photo!"
According to his probation report, he was worried about the photo being circulated on social media.
"He explains that a picture or video of him displaying negative actions would have been detrimental to his good character and career," the report said.
Ms Stace said Sawbridge then detained the woman with the help of another bouncer, who has not been prosecuted.
A previous hearing heard that other bouncers also stood by watching while it happened.
Describing what happened to her, the young woman told the BBC: "Another bouncer came over and both prevented me from leaving, repeating for me to delete the photo.
"I asked multiple times for them to let me leave but they wouldn't unless I deleted the photo. I was getting scared, so I tried to find a gap between the bouncers and made a run for the door.
"They both grabbed me and pushed me and threw me face first up against the wall with my arms behind my back."
She added: "I cannot explain how scared I was."
Ms Stace told the court the woman was screaming for help, to be let go, and for someone to call the police.
The woman saw a man come over and he filmed her with his mobile phone, Ms Stace said. He was "dressed differently" so the woman thought he could have been a manager.
Ms Stace said another bouncer then took the woman's ID out of her bag, photographed it, and the woman was eventually allowed to leave.
The woman told the BBC she was prescribed painkillers for her back and shoulders, which hurt from being pinned against the wall for so long.
Describing the lasting mental effects, she said: "The whole ordeal was extremely frightening and there have been times where I felt like I was back in the club with him shouting at me.
"I have not been to a nightclub since this event and when I see security personnel my anxiety increases."
However, magistrate Mrs Swanson said the magistrates were not awarding her compensation because "we have not heard there were any lasting effects or injuries sustained".
The woman told the BBC she felt "disappointed that the magistrates didn't recognise the lasting impact that this has had on my mental health".
Sawbridge, 40, of Stephenson Drive in Leicester, pleaded guilty at a hearing on 24 March. The case was then adjourned so the probation service could prepare a pre-sentence report.
The maximum sentence for the charge would have been six months in prison. The report recommended he be given an 18-month community order rather than a custodial sentence, and the magistrates said they had "gone along" with what the report said.
The 18-month community order requires him to do 120 hours of unpaid work.
His defence solicitor, Rachel Diorio, told the court he had lost his job as a result of what happened and is now working on a zero-hours contract as a delivery driver.
Sawbridge had worked in the security industry for more than 18 years, and the pre-sentence report said he was "well known and highly thought of in that profession".
He had no previous convictions, reprimands or cautions.
"Mr Sawbridge was apologetic for his actions, remorseful and ashamed of his behaviour," the report said.
After being sentenced, Sawbridge told the BBC: "I'd act differently if it ever happened again but my licence is lost and I have no jobs so I'm sure I've suffered enough."
Mosh said in a statement: "Craig Sawbridge and the other member of staff involved ceased to be employed by Mosh after the incident."
Related Internet Links
The BBC is not responsible for the content of external sites.