Emma-Jayne Magson guilty of steak knife murder after retrial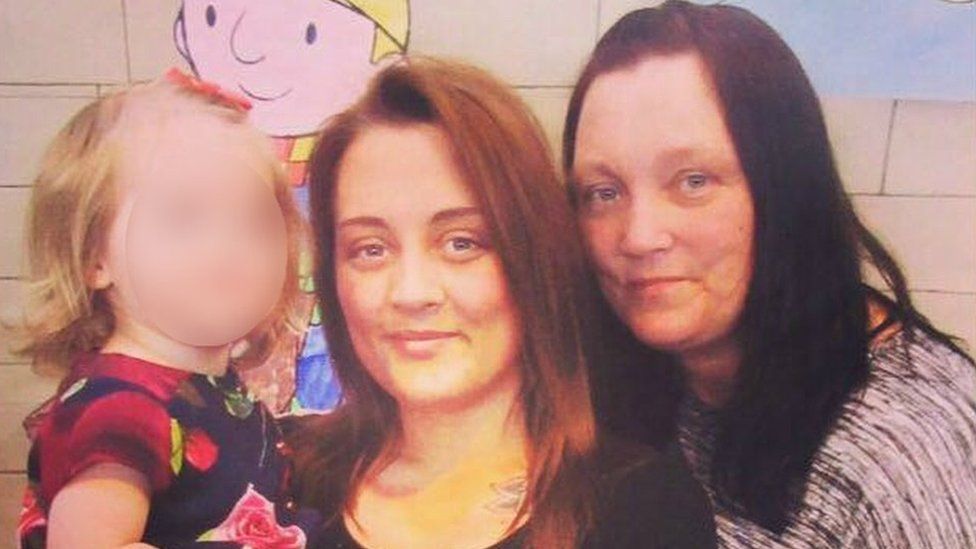 A woman who stabbed her boyfriend to death during an argument has been found guilty of murder for a second time.
Emma-Jayne Magson, from Leicester, was previously convicted of murdering James Knight and given a life sentence, but her conviction was quashed.
During a retrial she alleged Mr Knight had been strangling her, so she stabbed him with a steak knife in self-defence.
Magson maintained she never intended to kill or seriously harm her boyfriend - but jurors rejected her account.
Magson did not give evidence during the first trial but did during the second.
She told the jury Mr Knight had pushed her against the kitchen sink and grabbed her by the throat, after accusing her of being unfaithful.
"He had his hand around my neck," she said.
"It was all very fast. I had a rush of pins and needles and he was just really tight on my neck so I thought 'grab something, let's get him off me'."
Mr Knight's mother had to leave the courtroom during Magson's evidence after she shouted out at Magson, calling her "a liar".
Magson claimed 26-year-old Mr Knight had been abusive to her throughout the relationship, while the prosecution said she was the aggressor.
He had cocaine, cannabis and alcohol in his system when he died, and his former partner said his personality had changed after he started going to the gym and using steroids.
Mr Knight had repeatedly accused Magson of being promiscuous in text messages read to the court.
Police said Magson's second conviction showed the evidence against her "continued to be overwhelming", while Justice for Women said the case illustrated "a public lack of understanding of the dynamics of abusive relationships".
Magson stabbed Mr Knight at her home in Sylvan Street in the early hours of 27 March 2016, after they had both returned from a night out.
The trial, at Birmingham Crown Court, heard the couple had got together about six months earlier.
She had been out with friends in Leicester on the night Mr Knight died, and met up with him in a bar.
A taxi driver who drove the couple home said they were arguing in the taxi and Magson kicked Mr Knight, so he asked them to get out.
CCTV played to jurors then appeared to show Mr Knight pushing her over in the street after they got out of the taxi.
Magson accepted she stabbed Mr Knight, who had a single wound to his heart.
Evidence from pathologists said the stab wound would have caused him to bleed internally to begin with, and he may not have realised he had been stabbed as it would have felt like a punch.
He walked down Sylvan Street towards his brother's house and collapsed, but his brother then helped Magson carry him back to her house, not realising his brother was gravely injured.
The trial heard how Magson phoned 999 seeking help for Mr Knight, but did not say she had stabbed him.
When told an ambulance might be delayed, Magson said: "No, that's fine, don't worry about it."
Det Insp Kenny Henry, from the East Midlands Special Operations Unit, said: "It has been very disappointing to have to be back in court four years on to see the case be heard before a jury once more.
"The evidence against Magson continued to be overwhelming and the fact she has been convicted a second time just confirms that.
"Understandably James's family found it incredibly difficult to sit through the first trial and hear her lies and deceit and how Magson effectively sat back and watched James die. It has been horrendous for this to be spoken about in court again."
A spokesperson from Justice for Women said: "Ms Magson told a number of lies following the homicide which may have influenced the jury decision, notwithstanding evidence of violence by Knight.
"We are very disappointed by the majority jury verdict which flies in the face of the evidence."
Magson had two previous convictions for violence from 2012, one for kicking and pulling the hair of another woman, and another for cutting a woman's face with a glass while she was drunk.
The murder trial also heard how Magson dragged a woman out of her home by her head in January 2016, which she said was because the woman would not leave.
Magson was originally convicted of murder and jailed in November 2016.
Her conviction was quashed and a retrial was ordered, following fresh psychiatric evidence which suggested she was suffering from an abnormality of mental functioning.
During the second trial, jurors were given the option of finding Magson guilty of manslaughter. However, they found her guilty of murder by a majority verdict of 10 to two.
Mr Justice Jeremy Baker told her she would be remanded in custody to be sentenced for a second time on 29 March.
She will be given a life sentence but the judge will need to decide how long to set the minimum term, meaning the time before she becomes eligible for parole.
She was previously given a life sentence with a minimum term of 17 years.
Related Internet Links
The BBC is not responsible for the content of external sites.