New owners at former Leicester Fox's Mints factory
By David Pittam & Greig Watson
BBC News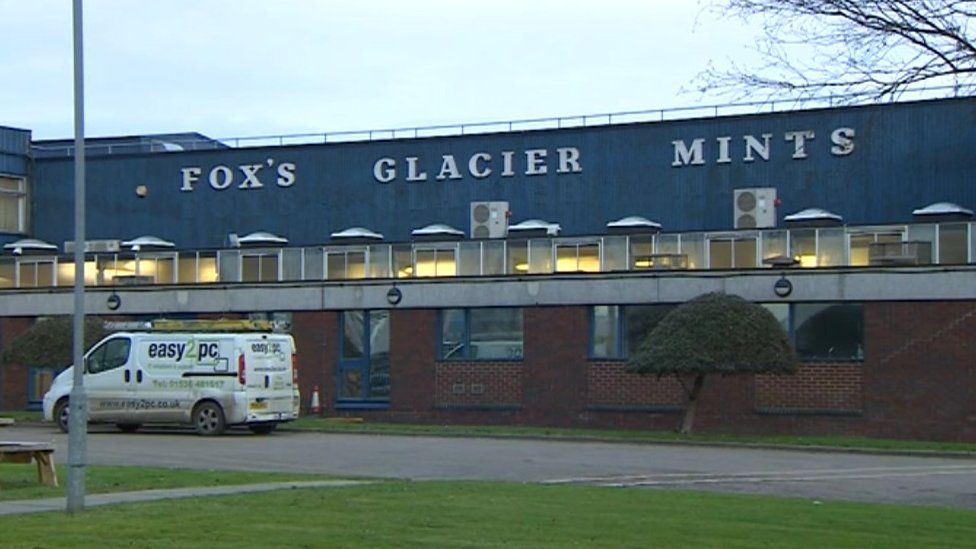 A famous Leicester sweet factory has been saved from demolition by two brothers who grew up just a few miles from the site.
The former Fox's Glacier Mints factory, in Braunstone Frith, closed last year when the parent company moved away.
Duncan and Stephen Keates bought the site in October for their business ADS Laser Cutting.
Duncan Keates said he had found old sweets and vats full of extra strong mints in the building.
"Some of the pipework is still full of chocolate and there are even big hoppers with the Triple X mint powder in them," he said.
Fox's Glacier Mints had been made in Leicester since 1918.
But 200 jobs moved when Fox's owner, Big Bear Confectionery, merged with Tangerine Confectionery into a combined UK head office in Pontefract and Blackpool, with the company renamed Valeo Confectionery.
The Big Bear site, for years famous for the stuffed polar bear in the foyer, was in danger of being torn down.
"It's an iconic Leicester building but the plans were initially to demolish it and build new units," Mr Keates said.
"However, the factory is perfect for us - it will allow us to grow. It feels absolutely brilliant to be here. Everybody in Leicester knows where it is."
Being so familiar with the building they are pleased they can retain the outside, but the change of use means the inside will be completely revamped.
"It's still full of Fox's stuff," Mr Keates said.
"We've even had the New Walk Museum on to us asking whether there was memorabilia like old signage they could have, so we will be looking to see what we can donate."
Leicester City Council, which runs the museum, confirmed it was interested in preserving artefacts from the site.
The museum already houses Peppy the Polar Bear, a stuffed bear which was the famous symbol of Fox's Glacier Mints.
The polar bear logo was introduced in 1922 and the stuffed version was taken by the company to fetes and carnivals across the UK as a publicity stunt.
It was donated to the museum in 2003 and is currently in storage.
Mr Keates said he aims to refurbish the building's interior and the company will move in in June. He hopes to expand the workforce by 20, to 90 staff, over the next three years.
A spokesperson for Valeo Confectionery said: "The factory is an important part of Leicester's history as it's where our Fox's Mint brand was launched and produced for many years and the staff who worked there have lots of happy memories of this time.
"We wish the new business all the best."
Related Internet Links
The BBC is not responsible for the content of external sites.