At-risk Melton Mowbray birth centre 'saved my son's life'
By Samantha Noble
BBC News, East Midlands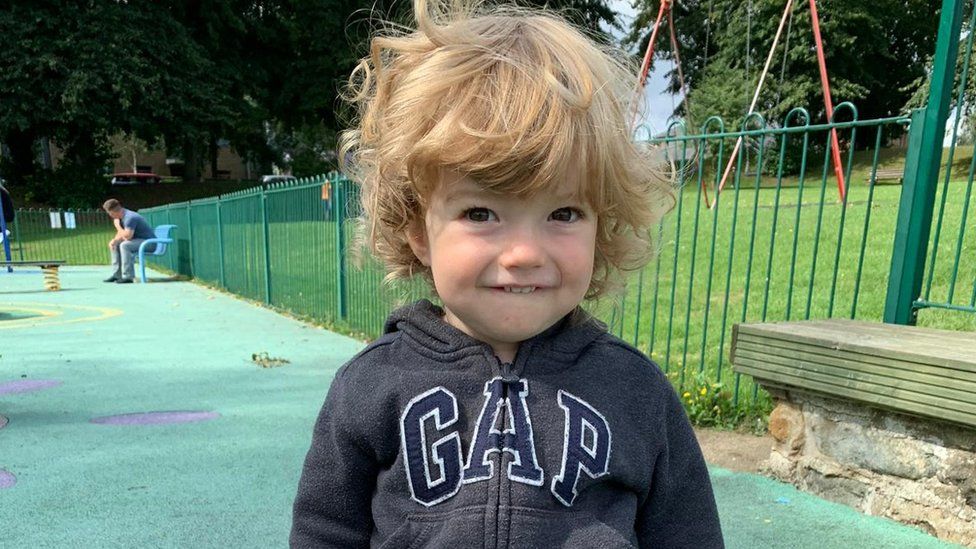 A mum has joined with other parents to campaign against the closure of a birth centre she says saved her son's life.
Claire Baines, from Rutland, said staff at St Mary's Birth Centre, in Melton Mowbray, spotted the symptoms of sepsis in her son Edward in February 2019.
The University Hospitals of Leicester NHS Trust said it proposed relocating some services to Leicester.
Mrs Baines, 40, opted to go to St Mary's for post-natal care after feeling she had been discharged quickly from Leicester General Hospital where she gave birth.
Midwives at St Mary's noticed problems with her baby's breathing.
"Within half an hour, he was being blue-lighted to Leicester Royal Infirmary's neonatal unit," she said.
"If I had come home, I don't think I would have picked up on [the sepsis] in time. I very much believe they saved his life."
Mrs Baines has taken part in a campaign video, together with more than a dozen other parents, calling for the centre to be retained.
Jenny Chapman, 35, from Asfordby, who also took part in the video, had all her children at St Mary's.
She said she would have struggled to reach a Leicester hospital in time to have her youngest Arthur, born in April.
"I would have ended up having him in the car," she said.
The 12-week consultation period on the trust's plans began at the end of September.
Helen Cliff, one of the founders of the Save St Mary's Birth Centre group, which posted the video on its Facebook page, said the potential loss of post-natal ward care was "alarming".
The mother-of-four, from Melton, said: "[The centre] has played such a pivotal role in breastfeeding assistance and postpartum care.
"To lose that would be devastating to mothers all over Leicestershire and Rutland."
Ian Scudamore, consultant obstetrician and clinical director of women's and children's services at Leicester's Hospitals, said: "Sadly, despite attempts to promote the service at St Mary's, only around 170 babies are born there each year.
"In many cases we believe this is because mums-to-be are concerned about being so far from medical support, should it be needed during or after the birth."
He said the trust believed a unit in Leicester would provide more access for more families.
"Under our proposals, women in Melton would continue to receive care from an expanded team of community midwives," he said.
Related Internet Links
The BBC is not responsible for the content of external sites.