Coronavirus: 'Relief' for Leicester firms out of lockdown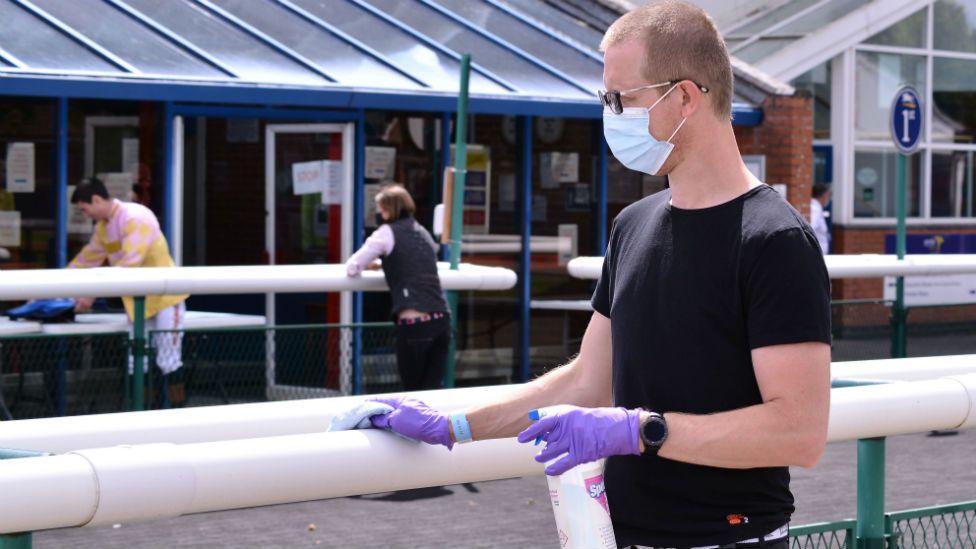 Owners of restaurants, pubs and hairdressers in Leicester have spoken of their "relief" at being able to open for the first time since March.
Businesses due to ease coronavirus restrictions with the rest of England on 4 July were told on 29 June to remain shut under a local lockdown.
Shop owner Drew Harriman said they now felt "ready for anything".
Mr Harriman, who runs Harriman & Co homewares, said they had opened briefly in June.
"The second lockdown was much harder," he said. "The first time we spent the time wisely, making changes and improving the shop. But the second time was, 'oh God really?'
"It came as such a shock we kind of went to ground a little bit.
"But it is great to be open again. We have reduced hours and we will see how it goes.
"It does seem to be busier today, there are definitely more people around than previously.
"And we are keeping on a few of the ideas we have had, like FaceTime shopping, local deliveries and maybe private shopping slots."
Blake Edwards, of the Flappers and Gentlemen hair salon, will be opening on Tuesday for the first time since March.
He said he felt a "massive relief" at finally being able to welcome customers, adding he wanted to make people feel proud of Leicester again.
He said the lockdown had "cost the businesses immensely".
"We know there is a rocky road ahead," he added.
"We are happy but aware safety is the number one priority. We don't want any more setbacks."
He said as well as affecting the mental health of people working in Leicester, the lockdown had taken a toll on business owners like himself who had to go to bed "working out whether they can still carry on employing the team".
"You really have had to be mentally strong," he said, adding the reopening of businesses would "hopefully start pushing Leicester in the direction it deserves".
Kevin Shepherdson, landlord of The Old Horse pub, said: "It has been a bit dispiriting at times, thinking you were going to reopen, then not, pouring away all that beer.
"We've missed out on big events in the park opposite - it should have been the Caribbean Carnival at the weekend when we would usually make £20,000.
"But we are ready, relearning things that used to be routine and making the most of our outdoor space.
"We've got tablets for people to put in orders and after years of asking them to bring their glasses back, we are now telling them not to!
"And what has been great is since we said we were reopening, the phone has been ringing non-stop with people booking things in."
Sandra Potts, of Sandra May's Hair Studio in the city centre, said she cried with excitement on the way to open up for the first time in 19 weeks.
"One of the other businesses who opened earlier said you could hear a pin drop on Cank Street but I said, 'don't worry, we will bring back the noise'.
"But we have lost customers, we know we have. People are scared to come to Leicester but we are safe, we are good, we will do everything to make it work."
City mayor Sir Peter Soulsby said he hoped the government had learned from the city's lockdown.
"I think people of Leicester do feel that we have been used as a bit of an example," he said.
"We hope now the government has learned from what has happened here and it won't be necessary to lock down the city in the same way again."
As of 31 July residents have been able to make non-essential journeys and travel in and out of the city.
Overnight stays are permitted from Monday providing they are not in other people's homes.
In common with various parts of northern England, there is a ban on visiting people's homes, either indoors or in private gardens.
Holidays are allowed, though only in company of people you already live with, and travellers must not stay in another person's home while they are away.
Oadby and Wigston, on the edge of the city, came out of additional restrictions from 1 August, meaning a return to national social distancing guidelines.
Related Internet Links
The BBC is not responsible for the content of external sites.