Leicester lockdown: Pubs and restaurants to reopen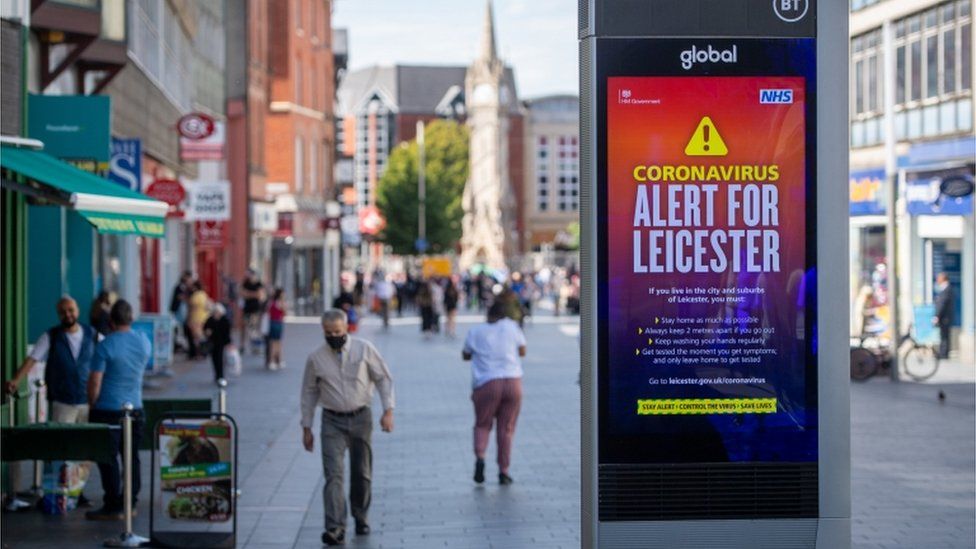 Pubs and restaurants in Leicester are set to reopen from Monday as a number of lockdown restrictions in the city are lifted.
He said those restrictions on household visits would also apply in Leicester.
The borough of Oadby and Wigston, on the city outskirts, will be removed from lockdown from midnight.
Initially the government had said it would be Monday.
Cinemas and museums are also allowed to open and religious ceremonies can be held.
Ivan Browne, director of public health for Leicester, said the infection rate had fallen to around 55 per 100,000 people, which he said is "a substantial drop" from the beginning of the local lockdown, when the number was 135.
He said health officials are looking to reduce the rate to below 50 "because that's kind of an international figure" with the further aim of "20 or below" by September.
"I think from there that would get us in the best position possible for winter that better reflects the national picture - below 10%," he said.
"That's what we're setting as our local target and we're pushing hard for that."
Leicester West MP Liz Kendall tweeted that she had spoken to Mr Hancock and called it "great news".
"This has been an unbelievably difficult period for our city but people's hard work and sacrifices have paid off," the Labour MP said.
But she described the government's handling of the lockdown as "totally shambolic" and "lessons must be learnt for the future to prevent others going through the same".
Just been on call with Minister about #LeicesterLockdown. The great news is our pubs, cafes, bars & restaurants can re-open and people can go on holiday with their own household. But leisure centres, gyms & pools still closed, and no meeting up with other households indoors. 1/2

— Liz Kendall (@leicesterliz) July 30, 2020
On Thursday, the mayor of Leicester, Sir Peter Soulsby, said city officials had been "messed about" by central government, and following the announcement called for "clarity" on what city residents can do.
"What we need is to understand what can open and when it can open, understand what we can do about meeting up with family and friends and where they can do that; and what is particularly unclear is what the travel restrictions are going to be," he told a news conference on Friday.
"I think the fact the timing of the decision was put back several times - and even when it came out, the bit about Leicester was very much an afterthought in a bigger statement, which leaves a lot of uncertainty and a lot of frustration."
Rose Linnett runs Buddies Grove Cafe in Wigston, which has not yet opened its doors.
She said she was "stunned" by the late-night announcement, and called for "more clarification" from the government.
"The second lockdown has been really difficult for me," she said.
"I think people are going to be very cautious [about going out] from the beginning, because we've had so long where you can't be near people."
Rachael Bradley, 48, from Knighton, said: "The way it was handled was absolutely shambolic.
"First it was midday, then 2pm, then 4pm, then finally they announced it at quarter to 10 at night.
"And Leicester was just one sentence. It was only through my MP [Jonathan Ashworth]'s tweets that we found out what it meant for here."
Julie Jordan, from Jordan Motors on Narborough Road in Leicester, said she has been "one of the lucky ones" classed as an essential business and allowed to stay open.
After her mother died with Covid-19 in April, she said she understands people's fears and described the way information was relayed on Thursday from Mr Hancock as "quite poor".
She said: "It's been really slow for us in Leicester I think, it has been disappointing."
Sam Smith, 29, said she had not seen or heard the new rules, but has been finding lockdown "horrible".
"I live in a flat with two kids and no garden, that's been the worst," she said.
"Seeing everyone else being let out made me feel like we are outcasts, and I don't get how these new rules are going to work."
Related Internet Links
The BBC is not responsible for the content of external sites.