Leicester lockdown: No plans for extra Covid cash, minister says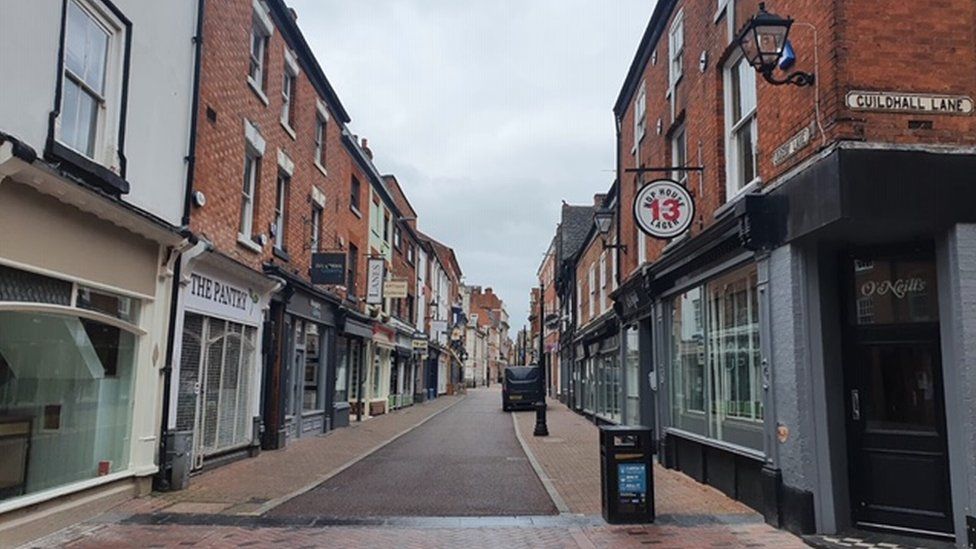 The first city in the UK to be put in local lockdown will not receive special financial support from the government.
Businesses in Leicester had expected extra help after they were ordered to close on 30 June following a spike in Covid-19 cases.
But a letter from Business Minister Nadhim Zahawi said there were no plans to change or extend any current schemes.
Labour MP Liz Kendall said she was "so angry" at the development.
Chris Hobson, from East Midlands Chamber of Commerce, said not giving extra help was a "massive mistake".
The latest weekly figures from Public Health England, released on Thursday, showed 116 new cases per 100,000 people in the city in the week up to 5 July.
This is down from 141 per 100,000 the week before, but still far ahead of any other area of England.
"People in Leicester have made huge sacrifices and everybody is hanging on in there," she said.
"I think it is wrong the government isn't saying 'you're in lockdown for longer, you'll get the help for longer'."
Ms Kendall, the MP for Leicester West, urged Chancellor Rishi Sunak and Prime Minister Boris Johnson to "think again".
Mr Hobson said there were businesses "which are fundamentally sound but are struggling with cash flow through no fault of their own".
"You have lots of businesses which have picked themselves up again and again and some will not be able to continue to do that," he said.
"This is going to put Leicester at a long-term disadvantage, there is a danger of seeing a two-tier recovery."
Dharmesh Lakhani, owner of Bobby's restaurant in the city, said they had been led to expect more help.
"It was a bit of a hammer blow, we felt betrayed," he said.
"We were looking forward to 4 July and had put in a lot of preparation, so it was a shock to be told we couldn't open.
"And then we, businesses and councillors, were quite certain there would be more help and without that, I can see some of the smaller, independent businesses going under."
Stuart Fraser, manager of Leicester Outdoor Pursuits Centre, said the lack of extra funding was "a blow" and called for clarity on when the lockdown would be lifted.
"We have already had to cancel the first week of our holiday scheme," he said.
"And we have staff putting pressure on, saying they may have to look elsewhere for work, and this is trained staff who, if we lose them, will affect our ability to reopen at all."
Mr Fraser said the centre, a registered charity, had launched a fundraising campaign to "help it survive".
Leicester Mayor Sir Peter Soulsby said he was "absolutely furious" the expected funds had not materialised and described the lack of extra measures as "brutal".
Analysis: How cases in Leicester grew
Daniel Wainwright, BBC England Data Unit
Weekly figures released by Public Health England show there were 116 new cases per 100,000 people in the week ending 5 July.
This is down from 141 cases per 100,000 people the week before, but still at more than three times more than the next highest in England.
The rate of cases in Bradford has fallen faster than Rochdale, which was second highest after Leicester.
New cases of coronavirus in Leicester came quickly during June, having previously started falling the month before.
So far, 24 June has seen the highest number of positive tests in Leicester of any day since the pandemic started with 97 confirmed results.
As of Wednesday, the city has the highest rate of confirmed coronavirus per head of population in England with 1,136 cases per 100,000 population. The next highest is Bradford with nearly 792 per 100,000.
Last week, Health Secretary Matt Hancock told the BBC there would be extra financial support for Leicester businesses affected by the local lockdown.
"We have given support to both the county council and the city council to make sure they have discretionary funds available to support businesses, if that's what's needed," he said.
In his letter, Mr Zahawi claimed the city council had spent less than £500,000 of a £3.5m discretionary grant awarded to it.
He went on to write: "I hope the lockdown is temporary and that affected businesses in Leicester are able to re-open soon."
But Ms Kendall added: "I don't think you can tell people one thing one day and tell them something else the other. It is just not right."
A government spokesman said: "The circumstances of individual lockdowns will continue to be carefully assessed before appropriate action is taken."
On Wednesday it was revealed a county-wide lockdown was considered.
County council leader Nick Rushton said that during discussions over where to put the edge of the lockdown zone, "there was even an argument that the boundary could have included the whole of Leicestershire" but it would have "created even more angst".
Newly released data shows, since the beginning of the pandemic, Leicester had a positive test rate of 1,116 per 100,000 of population, compared to 294 in nearby Melton, 475 in neighbouring Charnwood and a national average of 440 per 100,000.
Related Internet Links
The BBC is not responsible for the content of external sites.