Leicestershire cup final abandoned 'after racist abuse'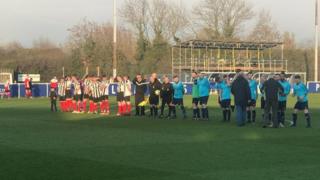 A football cup final was abandoned partway through after alleged racist remarks from the crowd.
The Saturday Vase Final between FC Wymeswold and Cosby United on Wednesday was halted after 78 minutes.
A Wymeswold player said he was racially abused by a spectator when he was shown a red card, leading to a confrontation.
Leicestershire & Rutland County FA said it would "investigate all allegations related to this game and take the necessary discipline action".
On Twitter, Leicestershire FA said the result of the game would be decided upon disciplinary proceedings.
The amateur game was held at Holmes Park, Whetstone, Leicestershire, in front of a crowd of about 200 people.
Wymeswold's Linford Harris said he was abused by a fan after he was sent off for making a challenge on another player.
"It's the lowest feeling I've ever had," he said.
"I didn't know what to do with myself - I just felt lost."
Mr Harris said no longer wanted to play, but also thanked fans and players for their support.
Mr Harris's cousin Gregg North was at the match and said another person confronted the man who made the comment.
"Someone else said 'what did you say?' and he turned round to everyone and repeated what he said.
"The stewards kept the guy who started the racism in the actual ground and tried to turf the other people out," Mr North said.
Other players were then said to get involved and more abuse was heard.
Reece Lewin said he was also sent off after confronting the man who made the alleged comment.
"I feel a bit disappointed by the red card," he said.
FC Wymeswold said it would not tolerate its players experiencing racism and would put out a statement in due course.
Cosby United also tweeted it would support the FA in any way possible.
Former Leicester City winger and pundit Matt Piper said: "Hearing that a game in Leicestershire has had to be called off, because of racism, in 2019, makes me think 'c'mon, really?'."
A Leicestershire FA spokesman added: "Leicestershire & Rutland County FA will investigate all allegations related to this game and take the necessary discipline action."
Anti-racism football campaign Kick It Out confirmed it had made contact with Mr Harris with a view to beginning an investigation.
Leicestershire Police said there had been no official reports made.
The issue of racism from football crowds resurfaced after chants were heard at an England match in Montenegro last month.
It was highlighted again days ago, when Juventus player Leonardo Bonucci suggested his team mate Moise Kean was partially responsible for some of the racist abuse he received from Cagliari fans.
Follow BBC East Midlands on Facebook, Twitter, or Instagram. Send your story ideas to eastmidsnews@bbc.co.uk.