Leicester shop explosion accused denies getaway role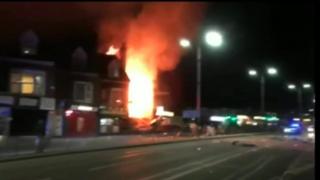 A man accused of causing an explosion which killed five people and destroyed a building has denied being involved.
The blast at a Polish convenience store in Leicester in February is alleged to have been an insurance scam.
The prosecution claimed Hawkar Hassan, one of three defendants, was the getaway driver.
But Mr Hassan told Leicester Crown Court: "It is nothing to do with me, I would not do this even for my mum or dad."
The explosion happened at 19:01 GMT on 25 February on Hinckley Road, destroying the Zabka supermarket on the ground floor and the flat above it.
Mary Ragoobar, her sons Shane and Sean Ragoobeer, Shane's girlfriend Leah Reek and shop worker Viktorija Ijevleva died. Another member of the family and a passerby were seriously injured.
Aram Kurd, 34, of Hillary Place, Leicester, Mr Hassan, 33, of no fixed address, and Arkan Ali, 37, of Drake Close, Oldham, are accused of causing the explosion in order to make about £300,000 from insurance.
It is alleged Mr Hassan's role was to drive his co-defendant Arkan Ali from the scene of the explosion to a house they used in Coventry.
When his defence put this to him, he said: "No, I'd never do this, this is wrong. It is nothing to do with me, I would not do this even for my mum or dad."
He told the jury he was "shocked" when he first heard about the explosion the next morning.
Mr Hassan also denied claims he and the other defendants met in Leicester's Highcross shopping centre on the day of the explosion to plan the crime.
Asked: "Was there any discussion about starting a fire?" He said: "No, I didn't hear anything."
All the defendants deny five charges of murder, five charges of manslaughter and a charge of conspiracy to commit fraud by false representation.
The trial continues.
Follow BBC East Midlands on Facebook, Twitter, or Instagram. Send your story ideas to eastmidsnews@bbc.co.uk.