Leicester City helicopter crash: Eight-year fairytale ends in tragedy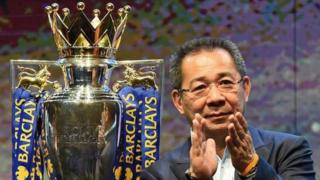 When a reclusive Thai billionaire took control of an ailing East Midlands football club in 2010, few could have predicted the fairytale that would follow.
Vichai Srivaddhanaprabha's death in a helicopter crash outside the King Power Stadium capped a tragic end to a remarkable eight years.
On the football side, it included Leicester City's promotion from the Championship and peaked with the 5,000-1 outsiders' astonishing Premier League title win in 2016.
But Mr Vichai's contribution to the city went beyond what happened on the pitch.
During his stewardship of the club he donated £2m to the Leicester Children's Hospital charity, £1m to the Foxes Foundation for community causes and £1m to Leicester University's medical department.
Those generous gestures - as well as the club's success - led to the tycoon being hailed as part of the city's fabric.
Leicester's mayor Sir Peter Soulsby said Mr Vichai "didn't just buy a football club and run it from a distance - he became a part of the city and became much loved here".
Sir Peter praised his "philanthropic donations" but also smaller gestures such as providing free scarves, clappers, flags and doughnuts at the King Power Stadium.
Dr Sanjiv Nichani, a consultant paediatrician at University Hospital Leicester Children's Hospital, told BBC Radio 5 live Mr Vichai had become "part of the fabric of Leicester, a giant of Leicester history" due to his charitable efforts.
In Thailand, where Mr Vichai made his fortune, his profile was "rather different" to the image of a benevolent billionaire he had cultivated in the UK.
BBC South East Asia correspondent Jonathan Head described his company King Power's monopoly of Thai duty-free sales as "very controversial".
The company had faced allegations of corruption over £323m reportedly owed to the Thai government, but the case was dismissed in September.
However, in Leicester, Mr Vichai was loved almost unconditionally, as the outpouring of emotion since his death in the crash on Saturday night shows.
Worth an estimated £2.9bn ($3.8bn), he was chairman of duty-free company King Power International Group which bought then-Championship side Leicester in 2010 for £39m.
After some early struggles the Foxes were promoted to the Premier League in 2014.
They flirted with relegation in their first season back in the top-flight, eventually finishing 14th.
That saw the club begin the 2015-16 campaign with odds of 5,000-1 to win the league.
But led by Italian manager Claudio Ranieri, the Foxes claimed an unlikely first top division title in their history, in one of the greatest sporting stories of all time.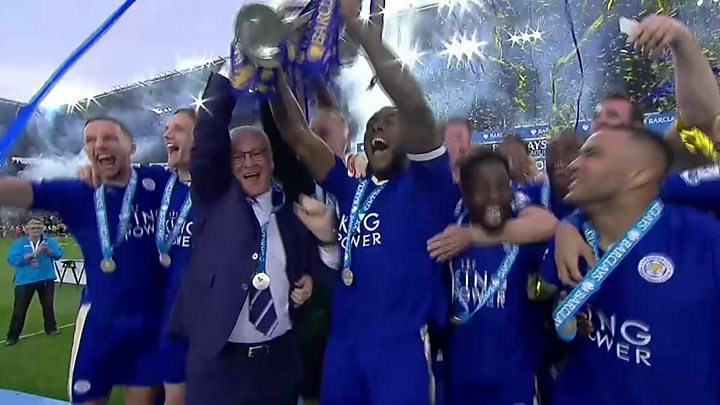 The following season, the club reached the quarter-finals of the Champions League and is now established as a mainstay of the Premier League.
Mr Vichai's death in the crash, alongside his staff members Nusara Suknamai and Kaveporn Punpare, and pilots and partners Eric Swaffer and Izabela Roza Lechowicz, has left a city in shock.
The billionaire's £2m donation helped fund a new children's hospital in the city and has seen Mr Vichai hailed by Karamjit Singh, chairman of Leicester's Hospitals.
Mr Singh said: "Vichai Srivaddhanaprabha was a very special individual, not only with his involvement with the football club, but he made a real effort to engage with the fans and the community of Leicester.
"This is evident with the outpouring of emotion across the city and beyond.
"We remain extremely grateful for the very generous donation he made towards our new children's hospital; he knew how to make the impossible possible and has left behind a legacy which we are committed to keeping alive."
University of Leicester graduate Muhamid Pathan said Mr Vichai "gave so much to the city - unforgettable memories and enormous charitable donations".
Foxes fan Ryan Redman said the billionaire had a "positive impact" on the whole city.
To mark his 60th birthday earlier this year, Mr Vichai gave away 60 free season tickets, highlighting why Leicester City ambassador Alan Birchenall called Mr Vichai "a chairman of the community".
"My thoughts are just like everyone in Leicestershire, whether you are a football fan or not, it's so sad and all the others in the helicopter... our thoughts go out to them," he told 5 live.
Leicestershire Live's Leicester City editor Rob Tanner said the wider impact of Mr Vichai's community donations had been felt across the county.
He wrote: "They may not come from Leicester, but they became part of the community through the Foxes Foundation, raising thousands and even contributing millions of their own money to worthwhile causes across the county, services that everyone could use and benefit from, not just football fans."