Leicester explosion 'linked to insurance fraud'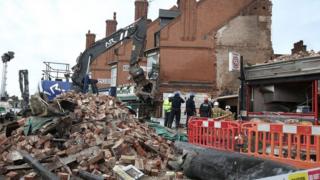 Three men who are accused of murdering five people when a shop exploded have been charged with fraudulently trying to benefit from an insurance claim.
It is alleged that the three men conspired together with shop worker Viktorija Ijevleva - who was herself killed in the explosion in Leicester.
Aram Kurd, Hawkar Hassan and Arkan Ali deny the new charge, together with charges of murder and manslaughter.
They are due to stand trial in November.
The explosion at 253 Hinckley Road destroyed the Zabka supermarket and the flat above it, where a family of five were living.
It killed Mary Ragoobar and two of her sons, Shane and Sean Ragoobeer, along with Shane's girlfriend, Leah Reek.
The third son survived and the boys' father was working away at the time.
Mr Kurd, 33, of Hillary Place, Leicester, Mr Hassan, 32, of no fixed address, and Mr Ali, 37, of Drake Close, Oldham, appeared at Leicester Crown Court earlier where they pleaded not guilty to the new charge of conspiracy to commit fraud by false representation.
The full wording of the charge alleges that they conspired with Ms Ijevleva between 31 December 2017 and 26 February 2018 - the day after the explosion.
It alleges they dishonestly made representations "intending thereby to make a gain for themselves by pursuing an insurance claim in respect of a fire at the business premises known as Zabka".
The three defendants are accused of both murder and manslaughter because these are alternative charges, and the jury will be able to convict them of either, or neither.
Send your story ideas to eastmidsnews@bbc.co.uk.