Dogs dumped in Leicestershire and Norfolk 'may be linked'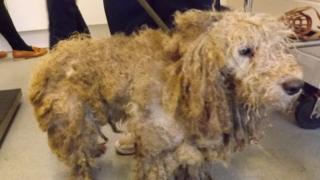 Two groups of badly neglected dogs dumped 80 miles apart could be linked, according to the RSPCA.
Eight dogs were abandoned in Redmile, Leicestershire, on Monday, while seven "matted" canines were found in Syderstone, Norfolk, earlier the same day.
Inspectors believe the "skinny" dogs - with "incredibly matted" fur "covered in faeces" - were used for breeding.
The charity has appealed for information.
Four Newfoundlands, two cockapoos and two Lhasa Apsos were found in Leicestershire.
Inspector Kate Burris said: "It is absolutely heartbreaking to see the condition these dogs have been left in.
"It's as if they have never seen the light of day, or been on a lead."
The RSPCA added recent changes around licensing for breeders could mean they see more dogs being abandoned in this way more often.
People reacting to photos of the dogs on Facebook included Stapleton Frances, who wrote: "It doesn't matter whether they are from a breeder or not no dog or animal deserves this.
"It is a shocking criminal act.
"Myself I have always had rescue dogs. Until there is more regulation and policing of breeders this will keep happening."
Gina Gray said: "Poor little mites. At least they are safe now and have a chance of being adopted by people who will love them."
The dogs found in Norfolk are in private boarding and the others were taken to the RSPCA in Radcliffe, Nottinghamshire, to be treated by vets.
Follow BBC East Midlands on Facebook, Twitter, or Instagram. Send your story ideas to eastmidsnews@bbc.co.uk.