Man finds 'great big hole' where car was parked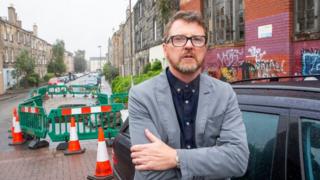 A man spent 12 hours looking for his car after finding only a large hole in the street where he had parked it.
Lawrence Rivers left his Mercedes on a road in Edinburgh, but contractors from Scottish Power had it moved in order to carry out emergency repairs.
After being unable to contact the firm, Mr Rivers, 52, from Leicestershire, spent hours searching the area.
His wife eventually helped locate the vehicle after phoning "every car recovery company she could find".
Scottish Power has apologised and said it would look into what happened.
Mr Rivers, from Misterton near Lutterworth, parked his car on Dryden Street on Thursday night, while staying in a nearby lodgings.
He returned to pick it up at about 07:00 BST on Saturday.
"I was there with my bag, with my clothes on hangers, and was looking forward to going somewhere for breakfast but my car was not there.
"There was just a great big hole."
He saw that Scottish Power was carrying out work and said he was "quite relaxed" at that point thinking it would be "over in an hour".
'Quite a day'
He rang the company's general inquiry line, but the operator told him he needed to "speak to the engineers who do not work at the weekend".
He then called the police, who said they would try to help, but at 15:00 they told him they had not had any luck.
Mr Rivers then walked around the area searching until 18:30.
Meanwhile, his wife Asha, 46, was calling "every recovery company she could find" until she found the firm which had moved the car, and was given a description of its location.
Mr Rivers followed her instructions and found it "parked in the middle of the road" in Tennant Street - about a mile away.
"It was quite a day," he added.
Mr Rivers said at least two other cars were also moved for the work, and his wife's detective work meant the police were able help the other motorists find their missing vehicles.
A spokesperson for SP Energy Networks said: "Engineers had to carry out emergency repairs on Dryden Street to fix a cable fault that could have resulted in power supplies being affected.
"It is very rare that we need to remove cars to get to a fault, and when we do, our contractors inform the police. We apologise for any concern caused, and we will speak to Mr Rivers to investigate the issues raised."
George McPhie, from McPhie Recovery - which moved Mr Rivers' car - said they had put the vehicle where Scottish Power had asked, and that it was not their responsibility to contact the owner.
Follow BBC East Midlands on Facebook, on Twitter, or on Instagram. Send your story ideas to eastmidsnews@bbc.co.uk.