Petition urging Leicester-based Walkers to ditch plastic packets handed over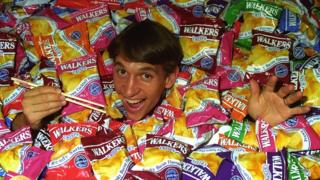 A petition signed by more than 300,000 people urging crisp manufacturer Walkers to make their packets recyclable has been handed to the firm.
The Leicester-based company is being urged to "ditch the plastic" and be more "environmentally friendly".
Packets dating back to the 1980s were found on UK beaches earlier this year.
Walkers currently uses metallised plastic but has vowed all its packaging will be 100% recyclable, compostable or biodegradable by 2025.
Its parent company PepsiCo said it was "examining the use of different packaging materials, both plant and paper based".
At Leicester's Walkers factory about 11m packets are produced each day, four billion a year, but what looks like metal foil inside the bag is actually a plastic film and only fit for general rubbish, according to Recycle Now.
In April, beach cleaning group Beach Guardian found old crisp packets dating back to the 1980s.
Geraint Ashcroft, the man who started the 38 Degrees petition, met senior executives from parent company PepsiCo at the firms headquarters in London.
Robin Priestly from the site said if Walkers switched to a biodegradable, or recyclable, packet it would "boost sales".
Gary Lineker, the face of Walkers crisps, told actor Thandie Newton in a tweet earlier this year that the firm had been working on making the packets recyclable ahead of the petition.
More recently, he said the firm was "determined to sort it as soon as possible".
Amy and Ella Meek, from Nottinghamshire, who set up Kids Against Plastic to highlight problems caused by plastic use, said 2025 was too long to wait for better packaging.
"There is really no excuse for waiting so long for Walkers to change their packaging, [they] should have the resources to make the change happen quicker," the campaigners said.
The girls, whose campaign was discussed in the House of Commons in December, said they "don't want to grow up and inherit a planet of plastic".
Follow BBC East Midlands on Facebook, on Twitter, or on Instagram. Send your story ideas to eastmidsnews@bbc.co.uk.