Leicester jeweller 'killed by men trying to steal gold'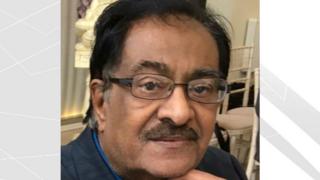 A jeweller who was kidnapped and killed was targeted by a "callous" gang demanding codes to access a safe containing gold, a trial has heard.
Ramniklal Jogiya was abducted in a "sophisticated" operation near his shop on Belgrave Road, Leicester, on 24 January, with his body found in nearby Stoughton the following day.
Jurors at Birmingham Crown Court were told the 74-year-old was "badly beaten" and "tortured for information".
Four men have denied murder.
Live updates from the East Midlands
Thomas Jervis, 24, of Whetstone, Leicestershire, Charles Mcauley, 20, of Braunstone, Leicester, and 20-year-old Callan Reeve, from Leicester, have all admitted kidnap and robbery but deny murder and manslaughter.
Javon Roach, 30, of Norwich Road, Leicester, denies murder, manslaughter, robbery and kidnapping.
Multiple injuries
During the opening of the trial, the court heard Mr Jogiya was "bundled" into the back of a van by at least two men before it was driven away.
After the abduction a man disguised in a burka entered the shop, but was unable to open the safe due to a time lock, and Mr Jogiya was tortured.
James House QC, prosecuting, said the victim suffered a "traumatic" brain injury and bleeding after being beaten about the head.
The court heard he was handled with such force that one of his biceps was ripped away from the bone and six of his ribs were broken, while 21 circular injuries to his torso and shoulders suggested a deliberate effort to inflict repeated pain.
"The reason he was kidnapped and tortured was because those who were responsible, these four defendants, and probably one other, needed information from him to enable them to enter his jewellery shop, turn off the number coded burglar alarm, access the number coded safe and steal the valuable gold jewellery within," Mr House told the court.
"To get that information those involved all knew they would have to force it out of him if they were to have any chance of success."
After the information was given Mr Jogiya's body was "dumped, probably still alive but seriously injured" by a quiet country road.
Mr House said the defendants must have been planning the attack for several weeks, if not months.
The trial continues.
Follow BBC East Midlands on Facebook, on Twitter, or on Instagram. Send your story ideas to eastmidsnews@bbc.co.uk.