Sir Ranulph Fiennes wants Belvoir Hunt attackers jailed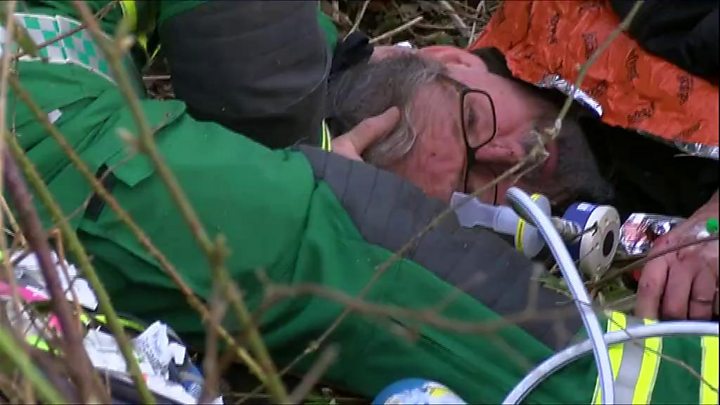 Explorer Sir Ranulph Fiennes has called for two men to be jailed for their part in an attack on animal charity workers monitoring a hunt in Leicestershire.
One of the victims had his neck broken, but the attackers were given suspended sentences after Princess Diana's sister gave a character reference in court.
Sir Ranulph said the judge may have been "unduly influenced" by this.
He has now asked the attorney general to review the sentences given to George and Thomas Grant.
In a letter written jointly with Green Future News podcaster Eduardo Gonçalves, he writes: "We strongly believe the sentences are not commensurate with the seriousness of the crimes committed.
"Darryl Cunnington suffered life-threatening injuries, including fractures to the neck in three places, as a result of the attack carried out on him.
"By allowing the two men to walk free from court, this may be interpreted as giving a 'green light' for hunt supporters to commit serious assaults against local residents, charity staff or any other individual who may observe or be in the vicinity of a hunt."
You may also like/be interested in:
The victims are both investigators for the League Against Cruel Sports, which Sir Ranulph has supported for several years.
Mr Gonçalves was chief executive of the charity at the time of the attack, which happened in March 2016 when the investigators were monitoring the Belvoir Hunt in Leicestershire.
George Grant, 57, is a terrierman for the Belvoir Hunt and Thomas Grant, 25, is his son.
Four other men took part in the attack but have never been caught, and Sir Ranulph's letter highlights how George and Thomas Grant apparently refused to cooperate with police requests to identify them.
Mr Gonçalves told the BBC: "This was a gang of six people with a very clear intent to inflict serious harm. Darryl could very easily have been killed.
"I was very angry when I heard about the outcome and I got a message from Sir Ranulph Fiennes saying that he was incensed, and he shared my concern that it could actually send a signal to hunts that they could attack people with impunity."
The BBC has repeatedly asked the Belvoir Hunt to comment but it has not responded.
How did the attack happen?
Darryl Cunnington and his colleague Roger Swaine were monitoring the Belvoir Hunt when they were discovered by George Grant and his son Thomas Grant, who approached them on a quad bike.
"They both became quite threatening but didn't get any joy from us because we just ignored them," said Mr Cunnington, who is a former police officer.
"We've had conflict resolution training and I've got 29 years policing experience, so we basically just tried to diffuse it and ignored them."
George Grant then told his son: "Go and get the boys and come back."
Thomas Grant left on the quad bike and returned shortly after, accompanied by four masked men in a 4x4 vehicle.
Mr Cunnington said: "They were completely dressed in black. They had got black balaclavas on so you could only see their eyes, and as soon as they got out of the vehicle they jumped on myself and Roger.
"Two or three approached me and basically kicked my walking pole out of my hand. As I bent down to pick it up I got punched in the chest, punched in the face, and one of them grabbed me and pushed me straight backwards off this 14ft drop.
"One of the masked thugs came down to me and started stamping on my arm and my shoulder and I think he was trying to see if I had got a camera."
The Grants attacked Mr Swaine and stole his camera.
"George Grant held me while his son Thomas punched me in the side of the head," said Mr Swaine.
"After he punched me in the side of the head George pushed me over the side of the embankment."
How badly were the hunt monitors injured?
Mr Cunnington was more seriously hurt and feared he had been paralysed because he was unable to move.
He had a broken neck, broken vertebrae, and had to wear a neck collar for three months. The attack also exacerbated an old shoulder injury.
Mr Swaine was less badly hurt and managed to call emergency services. He had cuts and bruises, bleeding down the side of his head, concussion, and thinks he was semi-conscious for a while.
Mr Swaine's stolen camera was later handed in to police but the memory card had been damaged, meaning that any potential evidence could not be recovered.
What were the Grants prosecuted for?
The grants admitted causing grievous bodily harm against Darryl Cunnington and actual bodily harm against Roger Swaine.
While George Grant did not physically attack Mr Cunnington himself, the court heard that the attack was a "joint venture" between him and the other men.
The Grants also admitted a charge of theft for taking the video camera, and criminal damage for damaging the SD card containing potential evidence.
How is Princess Diana's sister involved?
Lady Sarah McCorquodale, Princess Diana's eldest sister, is a joint master of the Belvoir Hunt and argued that George Grant would lose his job and home if the judge jailed him.
She told Leicester Crown Court that George Grant is "very hardworking, good at his job" and she had "never seen him lose his temper like that".
The men, both of Briary Cottage in Belvoir, were given 13-month prison sentences, suspended for two years.
They were also ordered to do 200 hours of unpaid work and each pay Mr Cunnington £500 in compensation.
Judge Jinder Singh Boora told the Grants: "Both of you flipped. Neither of you are by nature violent men."
In his letter, Sir Ranulph and Mr Gonçalves said they were "concerned that the judge may have been unduly influenced" by the character reference from Lady Sarah McCorquodale.
Follow BBC East Midlands on Facebook, on Twitter, or on Instagram. Send your story ideas to eastmidsnews@bbc.co.uk.