Police illegal immigrant suspect 'chip share' tweet praised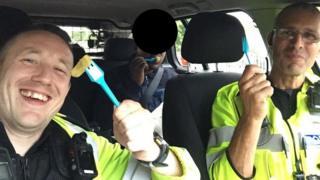 Two policemen who shared their chips with a suspected illegal immigrant have been praised for their compassion.
The pair arrested the man, 35, when he was seen sitting on a barrier on the M1 southbound near Leicester on Tuesday.
In a widely-shared Twitter post, the officers said the trio "shared some fine English cuisine" after they learned the man had not eaten for days.
Leicestershire Police said the man was arrested on suspicion of immigration offences and remains in custody.
The officers tweeted: "He's not eaten for days and we've not eaten for hours, so we've all shared some fine English cuisine ...... a bag of chips!!"
The post has been re-tweeted more than 400 times, has had more than 2,000 likes, and dozens have commented.
While some criticised the "soft touch" shown to the arrested man, many took to Twitter to praise the policemen.
PC Adam Pace said: "This is a human being and that's the most important part of what we do. Robert Peel would be proud."
Natalie Coyne wrote: "Smiling, eating, and being human! This is exactly what needs to be shown. Here illegally or not, we're all human beings, and should be treated as such. This is a lovely picture, well done guys!"
You may also be interested in:
While Harry said: "Doing the right thing legally while not forgetting the human factor to the situation. Great job."
Follow BBC East Midlands on Facebook, on Twitter, or on Instagram. Send your story ideas to eastmidsnews@bbc.co.uk.