Cows die in Leicestershire suspected farm poisoning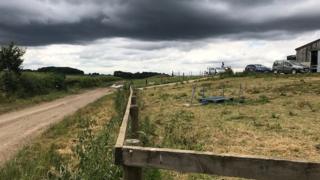 Dozens of cows have died in a suspected mass poisoning at a dairy farm.
Tom Rawson, who runs the site at Houghton on the Hill, Leicestershire, said the loss of 55 animals was his worst night in 20 years of farming.
He believed the cause was "external water source contamination" but an investigation has begun.
The fire service were called on Tuesday night and confirmed it spent more than four hours at the site providing clean water.
Mr Rawson also praised the actions of farm staff for helping to save the lives of 30 cows, and thanked vets and Leicestershire Fire and Rescue Service for their response.
"A long and emotional night for all the farm team, their families ourselves and the vet Henry," he wrote on Twitter.
"Thanks to the quick thinking of our amazing team of people 30 cows that were down were saved."
In a statement Evolution Farming, which owns the farm, said 10 cows initially seemed to be suffering from symptoms of bloat, with emergency operations carried out to release gas from inside the animals.
It said when more cows became ill the vets said it could have been caused by the water supply.
"Although the water system for the farm is isolated and no water can enter the mains, we have also ensured that washings from the flushed water system have not been spread on the ground," it added.
"The current situation is we are investigating what exactly caused these symptoms and how this could have happened, as we must not ever allow it to happen again."
Leicestershire Fire and Rescue said they were called to the farm in Houghton Lane at about 23:20 BST.
They filled cow troughs and farm storage tanks and left an inflatable dam filled with 6,000 litres of water.
Evolution Farming manages 2,400 cows at six sites across the UK. It milks 1,000 cows between the Leicestershire site and a smaller one in Lincolnshire.
Follow BBC East Midlands on Facebook, on Twitter, or on Instagram. Send your story ideas to eastmidsnews@bbc.co.uk.