War horse: 'Indomitable' horse Songster to get new cross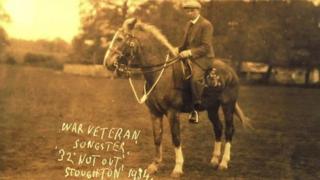 A cross is to be rededicated to a Leicestershire regiment's horse that served in World War One.
Songster was sent to France in 1914 and returned home five years later to be cared for by Sgt Major Harry Poole on a farm.
The war horse with an "indomitable spirit" became a local celebrity. He died at the age of 40 in 1940.
About eight million mules and horses died in the war and thousands more were slaughtered at the war's end.
Mary Baird, co-organiser of the rededication ceremony on Sunday, said Songster was one of a handful of horses to return home in 1919.
She said most were killed in the fighting or sold for meat or glue in the final days.
"Songster was lucky to have been found again in France by Bert Main and then bought again at auction in London by those who were aware of his strength of character," Ms Baird said.
"That he survived so long was down to his indomitable spirit, the care and love he had, both in France and back again in England, and I imagine a perverse streak that kept him going."
"Perhaps it was the beer that he drank in The Old Boot Hotel in Loughborough," she added.
Songster died in his stable on the farm in 1940. He was also buried there with the medal ribbons he had earned.
Follow BBC East Midlands on Facebook, on Twitter, or on Instagram. Send your story ideas to eastmidsnews@bbc.co.uk.