Leicester 'liquid' attack: Victim has serious injuries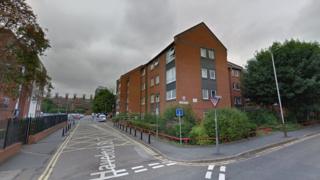 A man is being treated in hospital for serious and permanent injuries after an unknown liquid was thrown in his face.
The 20-year-old victim was approached in the street in Leicester by a man with his hood pulled up who threw the liquid at him then ran off.
Police are searching for the man behind the attack, which happened near Jarrom Court, near Leicester Royal Infirmary, at about 09:30 BST on Saturday.
They have not yet confirmed whether or not the liquid was some kind of acid.
'Permanent injury'
Det Sgt Esther Scott said: "We need to locate the person responsible for this attack and are asking for the public's help.
"Enquiries are ongoing to establish what the substance is but what we do know is that it has left the victim with a permanent injury."
The man who carried out the attack is described as black, in his early 20s and had been wearing a dark coloured hooded top.
Ms Scott said the area where it happened would have been busy, being near the hospital and city centre.